China's first batch of lithium carbonate futures started trading on Friday at the Guangzhou Futures Exchange, making it the fourth exchange worldwide to offer such contracts.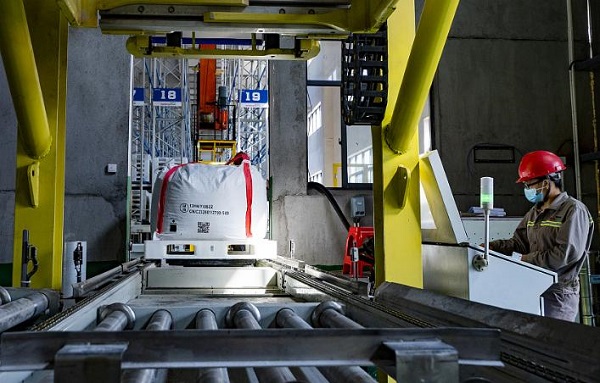 A worker monitors the production line of artificial intelligence robots at Ganfeng Lithium in Xinyu, Jiangxi province on Sept 21, 2022. [Photo/VCG]
It is expected that the introduction of these trading instruments will provide a much-needed guarantee for stable prices of raw materials to promote the EV industry's sustainable development, experts said.
The most-traded contract, due in January of next year, closed at 215,100 yuan ($29,989) per metric ton, compared to the base price of 246,000 yuan per metric ton set by the exchange. The other six contracts all fell at different levels.
Lithium carbonate is a core raw material for batteries used in areas such as electric vehicles and energy storage.
Lin Boqiang, head of the China Institute for Studies in Energy Policy at Xiamen University, said that lithium mining is a capital-intensive industry with large-scale project construction, long production cycles and high investment risks, especially amid price turbulence.
According to Shanghai Metals Market, an online metals' information provider, the price of lithium carbonate was on a roller-coaster ride in recent years. It was around 280,000 yuan per ton at the beginning of 2022. The price continuously increased and reached a record high of about 600,000 yuan per ton in November, which was followed by a rapid decline. In April this year, the price fell below 180,000 yuan per ton and went towards a growing trend to hit about 308,700 yuan per ton on July 11.(By Liu Yukun)