CHINA MINING is China`s official annual congress for the mining industry.
CHINA MINING Congress is hosted by the Chinese Ministry of Land and Resources PRC, with strong participation of the Provincial Departments of the Ministry of Land and Resources and mining associations. The conference is the place to learn about the latest policies, regulations, and mining projects in China and the world.
CHINA MINING Congress is a global mining forum.
Participants at CHINA MINING include domestic and overseas mining government and associations, CEOs and executives from all areas of the mining sector, as well as technical experts, service providers, bankers, stock exchanges and investors.
CHINA MINING Congress features about hundreds of speakers every year.
The CHINA MINING program includes topics of the highest relevance to the international and domestic mining industry. Keynotes, stream sessions, and panel discussions provide an excellent opportunity to meet and learn from experts, participate in discussions and get deep insights in presented topics and leading opinions.
CHINA MINING Congress promotes investors exchange.
A large number of sessions during CHINA MINING Congress are dedicated to country, projects & company presentations as an ideal place to hear about the latest investment opportunities and developments in the world.
CHINA MINING 2015 industry Breakdown of Delegates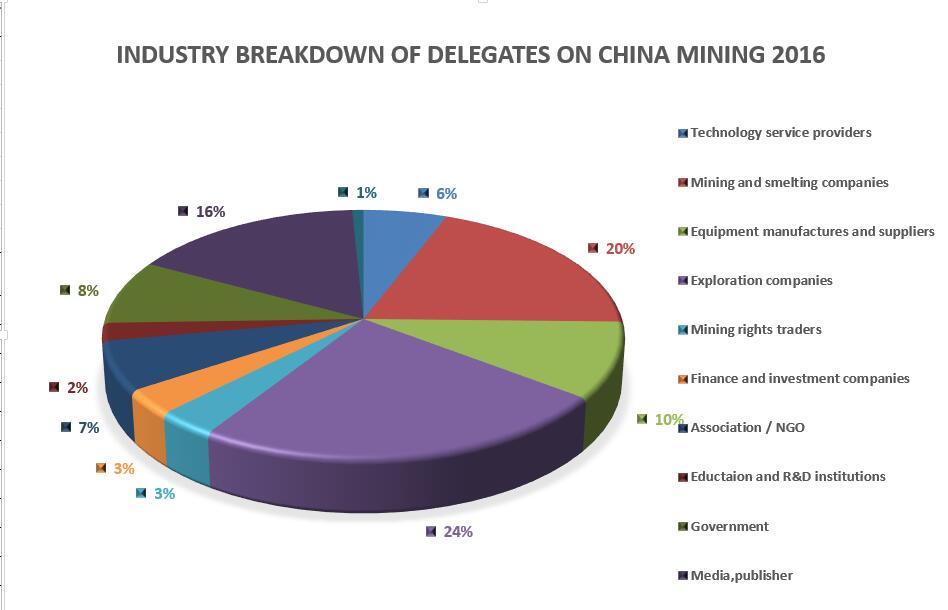 CHINA MINING Conference & Exhibition 2016 introduced keynote session, mining ministers' forum and mining development forum and another 21 streams and 13 countries (regions) investment projects shows featuring rich content, high participation and strong interaction. Themed with "New Normal, New Opportunities, New Development", government officials, executives of financial institutions, the industry elites, and mining experts and scholars from home and abroad carried out profound discussions on topics such as situation and progress of global mineral, mining and capital market, geosciences cooperation of Economic Belt along Silk Road, development and utilization of unconventional energy, outbound mining investment, green mine construction and etc.. The ministers and vice ministers from Ethiopia, Eritrea, Greenland, Australia, Peru, Ghana, Canada, Poland, India and Mexico, delivered speeches respectively on the mining ministers forum, introducing their mineral resources situation and expressing foreign cooperation intention, which received widespread attention of participants.
In terms of the number of participants and booths, the congress 2015 all topped the previous sessions. The congress presented an unprecedentedly grand event full of highlights.

The (18th) CHINA MINING Congress & Expo 2016 aims to organize an influential, large-scale and pragmatic event so as to make the mining congress into a guide to the mining trend. The congress will optimize the planning of breakout sessions and special mining topic streams with attention focused on key countries and regions to enhance study on international mining industry and economic situation and trend, and organize special topic forums on topics such as macro-economy and mining industry, mining industry and financial capital market and outlook on market of important mineral products.
Speaker invitation and solicitation: The organizing committee of CHINA MINING Congress & Expo 2016 will globally invite government officials, renowned scholars, industry leaders and CEOs of large mining enterprises to attend the congress and deliver speeches on related topics at the congress forums for further discussions. If you are interested in presentation at CHINA MINING 2016, please contact us at:
E-Mail: This email address is being protected from spambots. You need JavaScript enabled to view it.
Tel:+86-22-23120615 / 23120920
Fax:+86-22-2312 0583