Dear Guests:
  To carry out development ideas of "Innovation, Coordination, Green, Open, Sharing", CHINA MINING organizing committee will adjust traffic services during the period of CHINA MINING 2017. The new traffic services will effectively use transportation network and all kinds of vehicles to form intelligent trip modes to improve transportation efficiency and security assurance for all guests. There will be no pick-up services from airport and railway station to Tianjin Meijiang Convention Center, but information and guide desks will be set in the airport and railway station and volunteers will be there to provide guiding and consulting service.
  We have made the following traffic lines and trip modes for you in order to let you enjoy more excellent and exquisite services. We hope it will bring convenience for you. You could check traffic lines and other traffic services during the period of CHINA MINING 2018 through CHINA MINING's official website, we-chat.
  CHINA MINING Congress & Expo 2018 sincerely looks forward to your arrival and wishes you a safe trip. If you have any questions, please feel free to contact us. See you soon!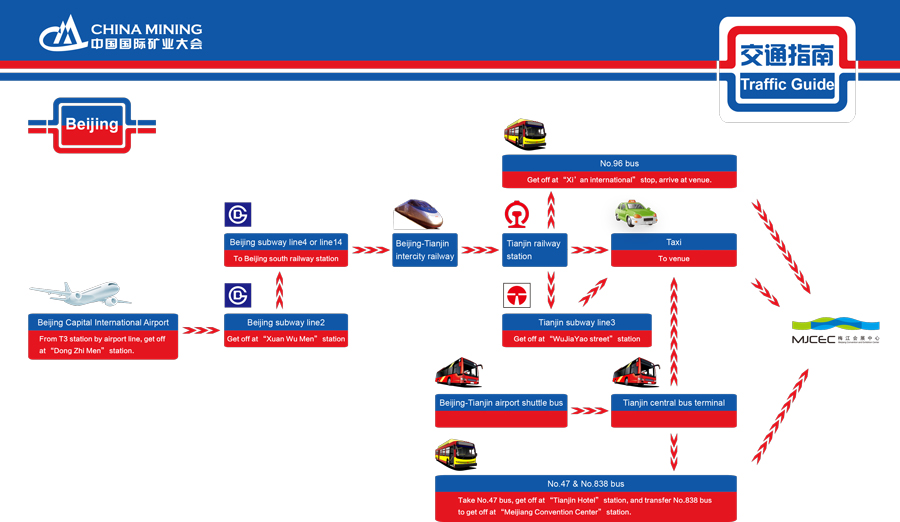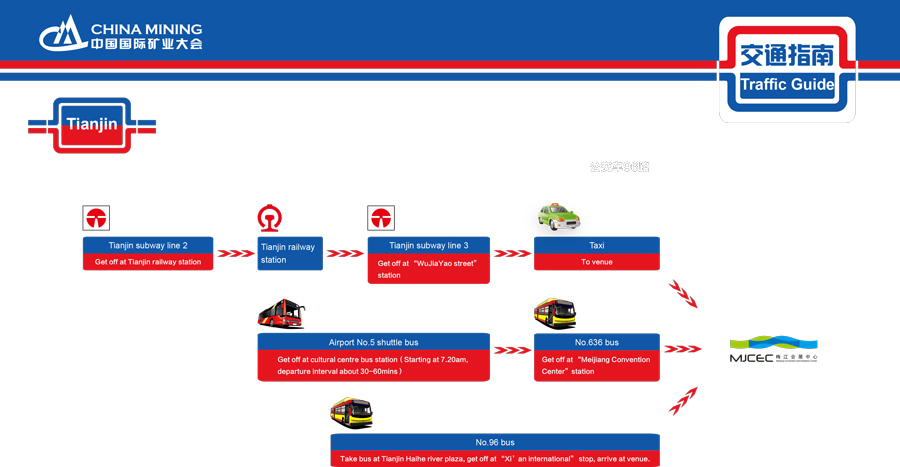 How to arrive at Tianjin Meijiang Convention Center(Route Guidance)
City

Place of departure

Distance to the venue

Driving directions

Means of transportation

Whole Journey Fare

Whole Journey Time

Beijing

Downtown

About 150km

Route1:Take subway line4 or line14 to Beijing South railway station, then transfer to Beijing-Tianjin intercity railway to Tianjin railway station, and take taxi from the Tianjin railway station to Tianjin Meijiang Convention Center. *Recommended route

Beijing to Tianjin intercity railway--Taxi

About80
RMB

About
1.5hrs

Route2:Take subway line4 or line14 to Beijing South railway station, then transfer to Beijing-Tianjin intercity railway to Tianjin railway station, then take subway line3 in Tianjin railway station to get off "WuJiaYao Street" station, then take taxi from "WuJiaYao Street" station to Tianjin Meijiang Convention Center.

Beijing to Tianjin intercity railway--Subway--Taxi

About60
RMB

About
2hrs

Route3:Take subway line 4 or line14 to Beijing South railway station, then transfer to Beijing-Tianjin intercity railway to Tianjin railway station; Walk about 180m to take No.96 bus and get off at"Xi'an Guoji" stop, then walk about 540m to arrive at Tianjin Meijiang Convention Center.

Beijing to Tianjin intercity railway--
Bus

About100
RMB

About
2.5hrs

Beijing Capital International Airport

About
173km

Route1:From T3 station by airport line and get off at "Dong Zhi Men"station;Change for subway line2 and get off at "Xuan Wu Men"station;Change for subway line4 and get off at Beijing South Railway Station, then change for Beijing-Tianjin intercity railway to Tianjin railway station; Take taxi from Tianjin railway station to arrive at Tianjin Meijiang Convention Center.
*Recommended route

Airport line-Subway
-Beijing to Tianjin intercity railway-
Taxi

About90
RMB

About
2.1hrs

Route2:Take taxi to go Jingjin Expressway to arrive at destination.

Taxi(apply to self-driving travel)

About580
RMB

About
2.5hrs

Route3:From T3 station by airport line and get off at "Dong Zhi Men"station;Change for subway line2 and get off at "Xuan Wu Men"station;Change for subway line4 and get off at Beijing South Railway Station, then change for Beijing-Tianjin intercity railway to Tianjin railway station; then take subway line3 in Tianjin railway station to get off "WuJiaYao Street" station, then take taxi from "WuJiaYao Street" station to Tianjin Meijiang Convention Center.

Airport line-Subway
-Beijing to Tianjin intercity railway-Subway-Taxi

About90
RMB

About
2.5hrs

Route4: From T3 station by airport line and get off at "Dong Zhi Men"station;Change for subway line2 and get off at "Xuan Wu Men"station;Change for subway line4 and get off at Beijing South Railway Station, then change for Beijing-Tianjin intercity railway to Tianjin railway station; Walk about 180m to take No.96 bus and get off at"Xi'an Guoji" stop, then walk about 540m to arrive at Tianjin Meijiang Convention Center.

Airport line-Subway-Beijing to Tianjin intercity railway-
Bus

About65
RMB

About
3hrs

Route5:Taking Beijing to Tianjin airport shuttle bus to Tianjin central bus terminal, change for taxi to destination.

Airport shuttle bus-Taxi

About120
RMB

About
3.5hrs

Route6:Taking Beijing to Tianjin airport shuttle bus to Tianjin central bus terminal, walk 149m and transfer No.47 bus and get off at "Tianjin Hotel" station, then change for No.838 bus to get off at "Meijiang Convention Center" station.

Airport shuttle bus-Bus

About90
RMB

About
4.5hrs

Tianjin

Tianjin Airport

About 25km

Route1: Take a taxi to arrive at the venue

Taxi(apply to self-driving travel)

About70
RMB

About
45mins

Route2:Take subway line2 and get off at Tianjin railway station, transfer take subway line3 and get off at "WuJiaYao Street"station, then take taxi to arrive at the Tianjin Meijiang Convention Center.
*Recommended route

Subway-Taxi

About40
RMB

About
50mins

Route3:Take airport No.5 shuttle bus and get off at cultural centre bus station, change for No.636 bus to arrive at "Meijiang Convention Center" station.(Starting at 7:20am,departure interval about 30-60mins)

Airport shuttle bus-Bus

About8
RMB

About
1.5hrs

Tianjin railway station(train)

About 17km

Route1: Take subway line3 and get off at "WuJiaYao Street"station, then take taxi to arrive at the Tianjin Meijiang Convention Center.
*Recommended route

Subway-Taxi

About35
RMB

About
30mins

Route2:Take a taxi to arrive at the venue.

Taxi(apply to self-driving travel)

About30
RMB

About
40mins

Route3: Take No.96 bus at Tianjin Haihe river plaza, after 24 stops to get off at "Xi An international" stop, then walk about 500m to arrive at Tianjin Meijiang Convention Center..

Bus

About2
RMB

About
1.5hrs