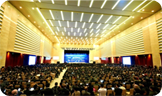 CHINA MINING 2019
Welcome Address
Dear Friends,
China Mining Conference and Exhibition 2019, which is the 21st event hosted by China Mining Association, is going to be held on October 9-11, 2019 at Tianjin Meijiang Convention Center of Tianjin China.
China Mining Conference and Exhibition is officially supported by Ministry of Natural Resources PRC and Tianjin Municipal People's Government. Since first organized in 1999, CHINA MINING has been annually held for 20 years and become one of the largest and most influential mining events in the world, covering the whole value chain of geological survey, exploration & development, smelting and processing, technology and equipment, mining rights trading, investment and trade, supporting services, etc. More than four hundred exhibitors and over ten thousand delegates and visitors from more than seventy countries and regions attend the event, seeking cooperation and business opportunities.
China Mining Conference & Exhibition 2019 consists of three parts – conferences, exhibition and coherent featured events.
During the conferences, government officials, industry leaders and experts from both Chinese and foreign mining industries have in-depth dialogues on questions related with the mining industry. The topics cover keynote session supported by the world's leading experts, mining ministers forum, mining cooperation on "The Belt and Road" forum, international geological survey directors forum, senior corporate executives forum and China-Africa mining investments & partnership forum and many breakout sessions including mining market & situation, geological survey & mineral exploration, green mines & sustainable development, new technology & equipment, mineral commodities, and country (region) investment projects shows.
The exhibition includes China Natural Resources Area, Mining Countries' Pavilions Area, General Mining Area, Special Construction Area, Mining Investment and Finance Area, Competent Natural Resources Authorities of China Area. Moreover, the 14th session of China Mining International Equipment Show held at the same time devotes to the most influential and professional mining equipment exhibition for the relevant manufacturers and purchasers from home and abroad. CHINA MINING is intent on boosting the co-operation in fields like exploration, development, investment, equipment, and technologies.
In the meanwhile, such varieties of featured events as Opening Ceremony, Leaders and VIPs' Tour to the Exhibition, Welcome Cocktail, Night of BOC, Welcome Dinner, Bilateral Meetings between Sino-Foreign Mining Ministers and Projects Matchmaking, etc., will provide additional networking opportunities for the participants.
Following the opening and inclusive principle and high quality standard of development, China's mining industry will, together with our international partners, make contributions to build shared bright future of global mining industry. Chinese mining companies will participate more actively in international capacity cooperation for a win-win development. CHINA MINING will provide high quality service to such cooperation and build more efficient exchange and cooperation platform, promoting cooperation in survey, exploration, development, processing, equipment manufacturing, technology innovation, investment and trading, for the property and sustainability of mining industry.
China Mining Conference & Exhibition 2019 welcomes your participation to celebrate the biggest industry gathering in Tianjin China.
The Organizing Committee of China Mining Conference & Exhibition