Hotel Service
Dear guests:
Welcome to select hotels here!
Organizing committee of CHINA MINING 2023 provides hotel recommendation service for the delegates. Delegates who choose to live in the following hotels will enjoy free shuttle bus service from hotel to the venue during 26th Oct. - 28th Oct. (Except LAVANDE Hotel)
Delegates could contact hotels directly to consult and reserve according to the following information. If you encountered any problems in the reservation or check-in process, you could also contact organizing committee on the phone: +86 22 23395037 ,(+86)166-0032-0152
Hotel Introduction
---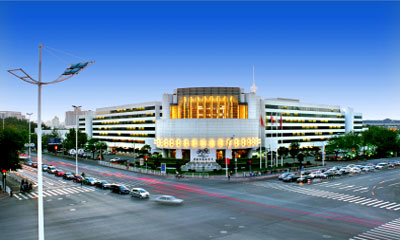 The Crystal Palace Hotel
The Crystal Palace Hotel is one of the most distinguished high standard hotels in Tianjin, which was opened in 1987. With the elegant environment and scenic lakeside views, the Crystal Palace Hotel is located in the city center of business and culture where only takes 10 minutes by car to the Meijiang Convention and Exhibition Center, 40 minutes to the Tianjin airport and 25 minutes to the Tianjin railway station.
The hotel features 310 guest rooms including 132 king-size bed rooms, 117 twin bed rooms, 31 suite rooms and 30 apartment rooms.
Address: No.28, Youyi Road, Hexi District, Tianjin
Hotel Reservations:(+86)139-2000-8201‬ Liya Cui
---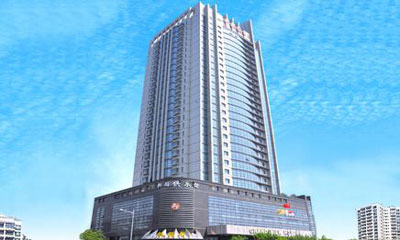 Tianjin Grand View Hotel
The hotel geographical position is superior, located off the intersection of Guangdong road and WeiDi road in Hexi District. It just takes you 30 minutes to Tianjin international Airport from our hotel, and 28 minutes to Beijing by China High-speed Railway. Also an easy access of the central business district.
Address:No.235,Guangdong Road, Hexi District,Tianjin Reservations
Tel:(+86)158-0228-3123 186-2240-7113 Cuiping He
---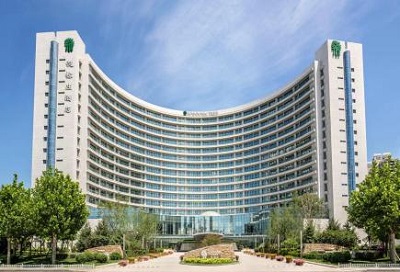 Banyan Tree Tianjin Riverside Hotel
The hotel situated in the emerging metropolis of Tianjin City in Hebei district, Banyan Tree Tianjin Riverside is a luxurious contemporary urban resort with unparalleled views of the Picturesque Hai river.Located in a destination of cultural and historical significance, Banyan Tree Tianjin Riverside is within walking distance of Tianjin's ancient culture street, lined with quaint handicraft stores and local specialty shops. Surrounded by resplendent European buildings, these previously concession areas also boast great architectural beauty.
A convenient 30-minutes drive from the airport, Banyan Tree Tianjin Riverside promises both the business and leisure traveller a distinctly Banyan Tree experience, a true sanctuary for all the senses.
Address:No.34,Haihedong Road, Hebei District,Tianjin
Reservations Tel: (+86)186-2222-3079 Xueli Guo
---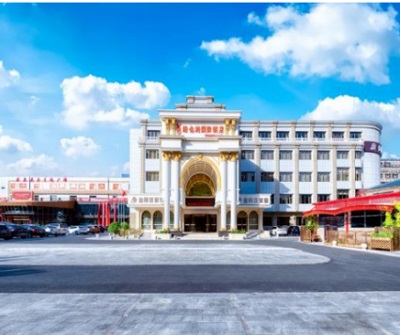 The Vienna International Hotel
(the Olympic sports centre Lingao Branch)
The hotel is located in the central business district Lingao Creative Industrial Park at the intersection of Nankai District and the Western Qing district. It is close to the Tianjin landmark-the Olympic sports centre (water drop) , it is only a 15-minute drive from the Mei River Convention and Exhibition Centre. It is conveniently located and 6-minute walk from the Ling Bin Road subway station on Line 5. Designed by a famous designer, the hotel is decorated in a continental style, with European Neoclassicism as the main architectural style and art works as decorations, creating a charming visual enjoyment for the guests, unique and romantic, high-end and rich in content. Perfect interpretation of the new concept of european-style hotel. The hotel has an elegant environment, well-equipped facilities, with more than 180 high-end rooms/sets, with more than 100 people large-scale conference venues and high-end catering, so that all business guests in the work, Relax, Enjoy Leisure, is your business travel, travel and sightseeing, leisure and entertainment of choice.
Address:Lingao Creative Industrial Park Nankai District, Tianjin
Reservation Tel: (+86)189-2069-5007 Yongchen Jia
---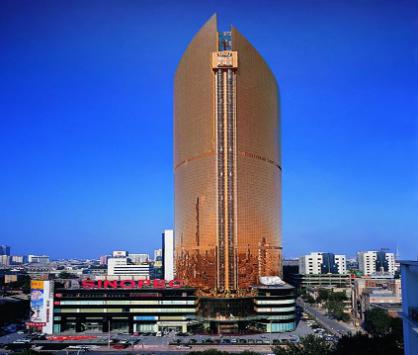 Tianjin Golden Crown Hotel 5*(Full)
Tianjin Golden Crown Hotel is lied in the pitcuresque shore of the Haihe River.It is located in the heart of business district of Tinajin.It also located in the business service area and the center of Financial District. It is near custom district Five Road,liabrary ,senior stores ,concer hall.It inherits the region's cultural heritage of Xiaobailou.They build an upper picture of the central business district together in Tianjin.Hotel is located in the Central Business District, just 30 minutes away from Tianjin International Airport and 10 minutes from the Railway Station. The hotel has 240 deluxe guest rooms, including 33 suites.Golden Crown Hotel is a new brand five-star hotel which is invested by SINOPEC, opening in May of 2004.
Address:No.18,Nanjing Road, Hexi District, Tianjin
Reservations Tel:(+86)185-2204-3814 Jinglin Zhang
---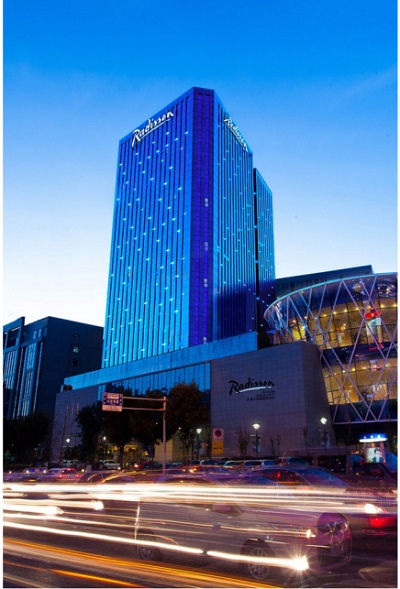 Radisson Tianjin Aqua City(Full)
The hotel is located in the center of Tianjin city, the geographical location is excellent, convenient transportation.
The hotel rooms are comfortable and provide a full range of meeting and banquet service facilities, more than 1500 square meters of meeting space, easily meet the needs of various banquets, meetings and events.
Let Radisson Tianjin Aqua City become your first choice for leisure, tourism, business and party in Tianjin!
Address:No.6,Jieyuan Road, Hongqiao District, Tianjin
Reservations Tel:(+86)156-2010-0302 Yaqin Qiu
---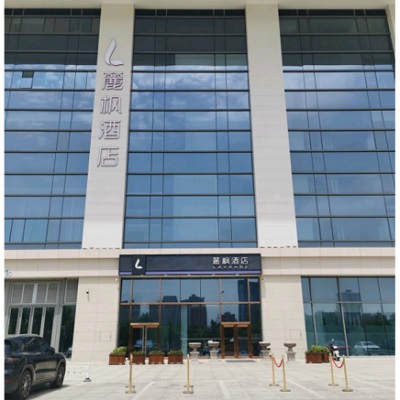 LAVANDE Hotel(Full)
(Sam's Club of Tianjin Meijiang Convention and Exhibition Center)
It is adjacent to the Sam's Club and is a first-class partner of Meijiang Convention and Exhibition. There are 101 guest rooms, including 8 characteristic LOFT suites, which can accommodate various conference activities and catering. LAVANDE Hotel 3.0 version, with a light luxury and minimalist style, and intelligent business. Meijiang Convention and Exhibition Center; Surrounded by enterprises and institutions such as Tianjin Municipal Government and Tianjin Municipal Construction Group: The hotel has convenient transportation and is 0.5 kilometers away from Metro Line 6, with a 10 minute walk; Distance to Bus 337 0.1 kilometers, 5 minutes walk: 10 kilometers from Tianjin Station, 25 minutes by taxi; 13 kilometers from Tianjin South Station, 35 minutes by taxi; 14.7 kilometers from the airport, 30 minutes by taxi; Make your travel simple.
At the same time, the hotel has a breakfast restaurant, laundry room, and free parking above ground. Our personalized service concept and professional management team provide high-quality and efficient services for business and travel guests, making it a great place for your business, negotiation, and meeting friends.
Address: Shop 2-01, Phase II, Meijiang Convention and Exhibition Center, Xiqing District, Tianjin
Reservations Tel:(+86)133-8805-2377 Xiangrui Cui