Eurasian Resources Group is looking to explore new opportunities and expand trade cooperation at the China International Import Expo, an annual event the mining giant is attending for the fifth consecutive time.
The company, in which the government of Kazakhstan has a 40 percent stake, is a leading diversified natural resources group with integrated mining, processing, energy, logistics and marketing operations. It operates in more than 15 countries with over 80,000 employees.
"By participating in the CIIE, we hope to strengthen our cooperation and trade with China and to explore new opportunities in the Chinese market," said Benedikt Sobotka, CEO of ERG.
The company signed a cooperation agreement with Xinjiang Bayi Iron and Steel at the fourth CIIE in 2021 to provide the latter with approximately 4 million metric tons of iron ore worth $460 million this year.
Growing with China
ERG has been supplying high-quality materials to China for more than 25 years, Sobotka said. "Today China is one of the key sales destinations for ERG, accounting for 35-45 percent of the group's annual sales."
ERG is an important supplier of copper to China and one of the largest and increasing suppliers of cobalt to the country. Iron ore and alumina produced by the group play an important role in supporting China's steel production, construction industry and electric vehicle market among others, the CEO said.
"China's strong production base and operational environment, sound manufacturing industry chain and huge consumption potential have all naturally attracted considerable investor attention," he said.
ERG and China Nonferrous Metal Industry's Foreign Engineering and Construction signed a contract in September 2021 to set up a special coke plant in Kazakhstan's Karaganda region, which is ERG's latest project in cooperation with a Chinese enterprise.
Sobotka hails China's long-standing commitment to opening-up.
"In the face of a pandemic and a global economic downturn, China remains unswerving in its determination to open up to the outside world, constantly introducing new measures and demonstrating new deeds, providing new opportunities for cooperation between countries and injecting new impetus into the recovery of the world economy. A more open China means unlimited opportunities, enabling more countries and regions to boost their confidence in trade with China," he said.
Sobotka expressed optimism about the future prospects of the China market and ERG's growth in the country.
"China's goals of advancing infrastructure construction, transportation, digital development and green energy are set to be among major factors driving the demand for ferrochrome, copper and cobalt worldwide," he explained, adding ERG expects to continue strengthening trade cooperation with China by leveraging its production assets in Kazakhstan, Africa and Brazil, which produce metals and minerals that are in high demand in China.
Toward a green future
Mining companies like ERG should be ramping up supply to meet the rising demand for clean energy and global decarbonization goals, Sobotka said.
As a responsible corporate citizen, ERG has been an active agent of change in promoting sustainable development. One of its latest efforts is contributing to the formulation of the Global Battery Alliance's Greenhouse Gas Rulebook, which calculates and tracks the greenhouse gas footprint of lithiumion batteries in EVs.
The group is also developing a portfolio of projects in wind, solar and hydraulic power, and has been increasing supplies to support China's energy transition goals, according to Sobotka.
"ERG is well positioned to provide high-quality materials of the future, including key metals for EV battery materials, to help China achieve its economic goals, while also bringing down carbon emissions," he said, noting the company is keen to serve the booming EV market in China.
Internally, ERG has been developing its own internal frameworks, such as the Clean Cobalt and Copper Initiative, to reduce its own environmental footprint. The group has also been developing recycling initiatives, which are "essential for the metal and mining industry's transition toward sustainability", he said.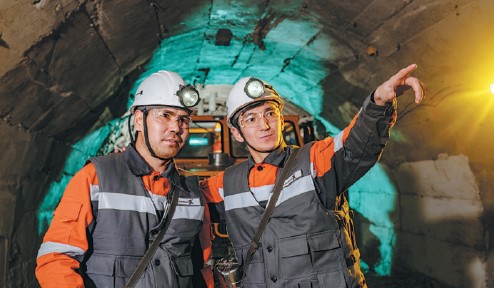 Two miners at a ferrochrome mining site operated by Kazchrome, a subsidiary of ERG. [CHINA DAILY]
Promoting cooperation
"ERG is strategically positioned in the heart of Eurasia, and we are important to both the economic development in Kazakhstan and economic cooperation as part of the Belt and Road Initiative," Sobotka said.
One of the key strengths of partnering with China, even beyond all the economic synergies, according to Sobotka, is the opportunity to continue to expand and support green value chains.
"We must ensure that the production of renewable energy takes place sustainably and that any ethical issues that arise are managed swiftly and effectively. This cannot happen in isolation. On the contrary, it requires cooperation across the global value chain. This is why participation in the BRI is so important. The interconnectivity it offers allows organizations and governments around the world to work completely in lockstep to ensure the viability of green value chains," Sobotka explained.
Kazakhstan supports the BRI.ERG's operations in Kazakhstan supply large volumes of materials to China, many of which are essential to its transition into a more consumption-driven economy, he said.
"For example, our Kazchrome operation in Kazakhstan is the world's largest high-carbon ferrochrome producer, and substantial amounts of our ferrochrome production are supplied to China," the CEO said.
Kazchrome is a fully integrated mining and metals business and a subsidiary of ERG.
"We are also one of the largest exporters of iron ore from Kazakhstan and we can further increase the shipments of iron ore products to China," Sobotka added. (By Yuan Shenggao)