The sprawling archipelagic nation of Indonesia is a hot spot for international investors, given the abundant natural resources of what is the biggest and most populous country in Southeast Asia.
Among those investors is China Nonferrous Metal Industry's Foreign Engineering and Construction, which is known as NFC.
As a listed State-owned company, NFC is mainly engaged in international project contracting and nonferrous metal resources development.
Its main business covers the whole process of the nonferrous metal industry, including nonferrous metal resources exploration, mine development, smelting, investment, trade, engineering, research and development, project construction and equipment manufacturing.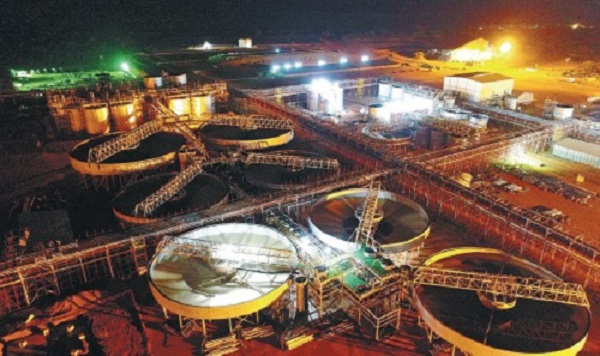 A construction site of NFC's RTR project. [CHINA DAILY]
NFC's presence in Indonesia goes back to 2013, when the company signed a strategic cooperation agreement with PT Bumi Resources Minerals Tbk, or BRMS, a subsidiary of PT Bumi Resources Tbk, on developing the Dairi lead and zinc mine in North Sumatra, Indonesia.
The mine is one of the best-quality zinc mines in the world, NFC said.
NFC acquired a 51 percent share of the project company, PT Dairi Prima Mineral, or DPM, in 2018 for around $200 million. The remaining 49 percent was held by BRMS.
NFC is also the EPC contractor for the Dairi mine's development. When Dairi is commissioned, it will produce around 220,000 metric tons of zinc concentrates and 120,000 tons of lead concentrates annually.
EPC stands for engineering, procurement and construction. In such a contract, the contractor handles design, procurement, construction and commissioning, and hands over the project to the end user.
The Dairi project will create more than 1,500 jobs during the construction phase, and about 600 jobs during its production period.
The average annual tax payment is projected to reach about $43 million, which is a sizable contribution to local economic growth and the betterment of people's lives, NFC said. Separately, after extensive discussions and negotiations, NFC beat out other international bidders and landed the EPC contract in 2021 with PT Amman Mineral Industri, or AMIN, to build Indonesia's second copper smelter.
A subsidiary of PT Amman Mineral, AMIN owns the second-largest copper-gold mine in Indonesia. NFC has set up three entities in Indonesia, a representative office and two subsidiaries. As one of the top international contractors, NFC aligns itself with the Belt and Road Initiative, and commits itself to adopting the best available technology to deliver projects and achieve win-win results for itself as well as its clients.
Responsible corporate citizen
Keenly aware of the importance of transparency and accountability, DPM has pursued mutually beneficial cooperation and has been committed to fulfilling its corporate social responsibilities since its establishment.
For instance, DPM, in which NFC has a 51 percent stake, has made several donations to local schools and residents over the years.
In particular, during the COVID-19 pandemic, DPM has contributed its share to the battle against the disease by donating hygiene and protective supplies.
It has also provided Chinese language training and Indonesian language training programs to both its Indonesian and Chinese employees to help minimize language issues and cultural misunderstandings.
DPM has also offered annual scholarship programs to a group of local university students to study in China since 2020.
Beyond Indonesia
In Vietnam, the Sin Quyen copper complex in Lao Cai, owned by the Vietnam National Minerals Corporation, is the largest of its kind in the country. The mine extracts, refines and processes ores into copper.
Processed crude ores are used to produce copper concentrates, which are then smelted and refined to produce copper cathodes.
Under the cooperation framework between the Chinese and Vietnamese governments, the project was executed by NFC with preferential loans from China.
When the then Vietnamese prime minister Nguyen Tan Dung attended the ribbon-cutting ceremony, he praised the excellent services provided by NFC, and noted that the Tang Loong copper smelter was the very first copper smelter in Vietnam. This ended the era when Vietnam relied heavily on copper imports and contributed tremendously to the economic development of the country.
Now, NFC has helped Vietnam National Minerals Corporation expand its copper smelter capacity to 30,000 metric tons of cathode copper on an annual basis, according to NFC.
Exemplary projects
In Kazakhstan, NFC successfully delivered the Bozshakol copper concentrator project with an annual ore processing capacity of 30 million tons and the Aktogay copper concentrator project with an annual ore processing capacity of 25 million tons for KAZ Minerals.
The two concentrators are projects showcasing NFC's efforts to traverse both the BRI proposed by China and the Path of Light economic strategy of Kazakhstan.
Then Kazakh president Nursultan Nazarbayev witnessed the commissioning of the Bozshakol copper sulfide concentrator plant via video link and awarded the project the Golden Eagle Quality Award for the Best National Industrial Project during the live broadcast.
In the Democratic Republic of Congo, NFC delivered the Roan Tailings Reclamation project, or the RTR project, for Metalkol, a subsidiary of Eurasian Resources Group, or ERG, to recover copper and cobalt metal from cobalt and copper tailings from previous mining operations.
NFC signed the EPC contract with Metalkol for both Phase I and Phase II of the RTR project in June 2016 and June 2018, respectively.
The project was commissioned in October 2018 and has reached full Phase I production in 2020. It completed the construction of Phase two and is now ramping up to reach the designed capacity of 20,000 tons of cobalt and 105,000 tons of copper by the end of 2022.
The facility has a target potential capacity of 24,000 tons of cobalt and 120,000 tons of copper.
Unlike conventional mining operations which extract primary ores, the RTR project reclaims and reprocesses tailings from previous operators around Kolwezi, including the Musonoi River, since the 1950s.
Over decades, the waste material has accumulated into one of the largest tailings deposits in the world and continues to cause water and dust pollution, negatively affecting local aquatic systems, ecological habitats and surrounding communities.
The recovery of copper and cobalt has not only brought added value to Metalkol, but also helped to protect the environment and improve the quality of life of local communities. Once it reaches full production, this strategically important operation will make ERG one of the most significant producers of clean cobalt globally, NFC said. (By Hu Yuyan )