BEIJING -- China's raw coal output sustained steady growth in May as policy measures to ensure energy supply and stabilize prices have taken effect, official data showed.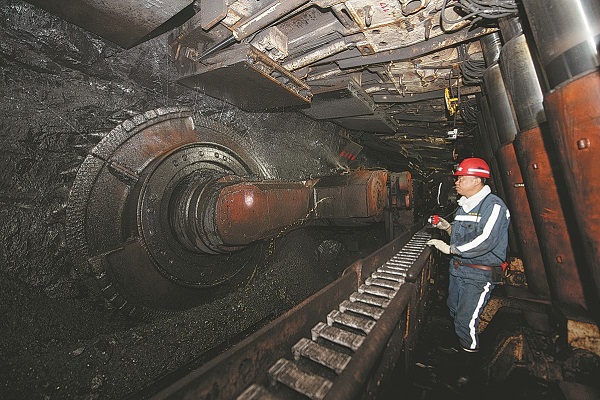 A miner works at a coal mine in Lyuliang, Shanxi province. [Photo/China News Service]
The output rose 10.3 percent year on year to 370 million tonnes last month, according to the National Bureau of Statistics.
The growth rate was 0.4 percentage points lower than that in April, the bureau said.
Coal imports shrank last month. China imported 20.55 million tonnes of coal in May, down 2.3 percent year on year.
In the January-May period, the country's raw coal output rose 10.4 percent year on year to 1.81 billion tonnes, while imports dropped 13.6 percent to around 96 million tonnes, the data showed.
ABOUT CHINA MINING
CHINA MINING CONFERENCE AND EXHIBITION (CHINA MINING) IS OFFICIALLY SUPPORTED BY MINISTRY OF NATURAL RESOURCES CHINA. SINCE FIRST HELD IN 1999, CHINA MINING HAS BECOME ONE OF THE WORLD'S TOP MINING EVENTS AND ONE OF THE WORLD'S LARGEST MINING EXPLORATION, DEVELOPMENT AND TRADING PLATFORMS, COVERING ALL ASPECTS OF THE WHOLE MINING INDUSTRY CHAIN, INCLUDING SURVEY AND EVALUATION, EXPLORATION AND MINING, TECHNIQUES AND EQUIPMENT, INVESTMENT AND FINANCE, TRADE AND SERVICES, ETC., PLAYING AN ACTIVE PROMOTION ROLE IN CREATING EXCHANGE OPPORTUNITIES AND ENHANCING MUTUAL COOPERATION BETWEEN DOMESTIC AND FOREIGN MINING ENTERPRISES.
With the theme of "Multilateral cooperation—for development and prosperity of post pandemic era", China Mining Conference and Exhibition 2021 (CHINA MINING 2021) was held in Tianjin China on October 21-23, 2021. For more information about CHINA MINING, please visit: www.chinaminingtj.org/en/.