Inner Mongolia North Heavy Industries Group Co Ltd (NHL), a major Chinese mining truck manufacturer, rolled the first of 28 units of its 360-metric-ton carrying capacity electric mining trucks off the production line last week for an Australian client.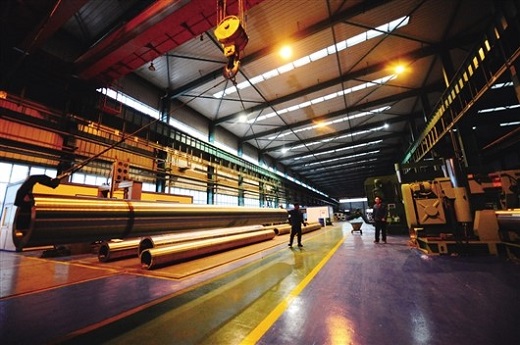 Pipeline is moved at a workshop of Inner Mongolia North Heavy Industries Group located in Baotou,
in North China's Inner Mongolia autonomous region. [Photo/Baotou Daily]
Ordered by Warkworth Mining Ltd, the giant trucks will be shipped to mines in New South Wales, Australia. The 1 billion yuan ($145 million) vehicle order was sealed by the two sides in March.
The trucks, with their advanced systems, will help Warkworth's mining fleet improve performance by reducing fuel consumption and adding more digital functions, and provide it with distinct sustainable cost advantages over the service lifetime of the trucks, said Li Jun, NHL's chairman.
The trucks are 16 meters long, 10 meters wide and 8 meters tall, and have carrying capacity of 360 tons.
Under the agreement, the trucks will be delivered over the next three years with initial three units shipped to Australia later this year, said Yang Zhe, who is affiliated with the order.
The Baotou-based company also announced earlier this month that it shipped seven 240-ton electric mining trucks from Tianjin to Serbia, representing another breakthrough for the company to export giant mining trucks to the European market amid the COVID-19 pandemic and a declining global business environment.
"This has become a successful mode for the company to extend its business scope from simply making trucks to offering entire life-cycle services in the global market," Yang said.
As a subsidiary of China North Industries Group Corp-the country's largest manufacturer of land armaments by production volume-NHL has shipped its mining trucks and other construction machinery to over 500 mines and water conservancy projects in more than 65 countries and regions, many of them located in economies related to the Belt and Road Initiative such as Mongolia, Turkey and Brazil, as well as many African nations.
The State-owned enterprise has also developed intelligent unmanned mining trucks for its customers in the energy, steel and cement sectors, including subsidiaries of State Power Investment Corp Ltd, China Huaneng Group Co Ltd, China National Coal Group Corp and Anhui Conch Cement Co Ltd.
The unmanned mining trucks have been used in opencast mining. They can plan missions and routes, load and unload and maneuver autonomously. The new products feature integrated direct line control, image processing, wireless communications and artificial intelligence technologies, the company said.
Unmanned mining trucks are expected to improve mining safety and production efficiency. Compared with other unmanned vehicles, mining vehicles need to cope with tough road conditions, unpredictable obstacles and no clear guideposts, said Ding Rijia, a professor specializing in mineral resources engineering at China University of Mining and Technology.
Qi Jun, president of the China Construction Machinery Association, predicted that China's construction machinery sector is expected to see a 3-percent increase in revenue this year on the back of the growing number of infrastructure projects being undertaken by local governments and sustained efforts by companies to boost demand for next-generation products.
Although many industries such as textiles and the services sector have been severely hit by COVID-19, local governments' infrastructure projects and China State Railway Group Co's continued network expansion will effectively support sales by domestic construction machinery firms. Most of the companies are expected to start seeing better sales in the second half.
Apart from traditional infrastructure projects like highways and airports, Qi said construction machinery will be key in supporting the growth of new infrastructure projects, such as building 5G base stations, telecommunication towers, ultrahigh voltage grids and intercity high-speed railway networks.( By Zhong Nan)
About CHINA MINING
China Mining Conference and Exhibition (CHINA MINING) is officially supported by Ministry of Natural Resources China. Since first held in 1999, CHINA MINING has become one of the world's top mining events and one of the world's largest mining exploration, development and trading platforms, covering all aspects of the whole mining industry chain, including survey and evaluation, exploration and mining, techniques and equipment, investment and finance, trade and services, etc., playing an active promotion role in creating exchange opportunities and enhancing mutual cooperation between domestic and foreign mining enterprises.
China Mining Conference and Exhibition 2020 will be held IN Tianjin China on October 22-24, 2020. We invite you to join the event and to celebrate the 22nd anniversary of CHINA MINING with us. For more information about CHINA MINING, please visit: www.chinaminingtj.org.