SHANGHAI - Gold futures closed higher Wednesday in daytime trading on the Shanghai Futures Exchange.
The most active gold contract for December 2020 delivery jumped up 12.38 yuan ($1.77) to close at 444.06 yuan a gram.
The total trading volume for eight listed gold futures contracts on the exchange was 431,476 lots, with a turnover of about 189.46 billion yuan.
China launched gold futures in January 2008.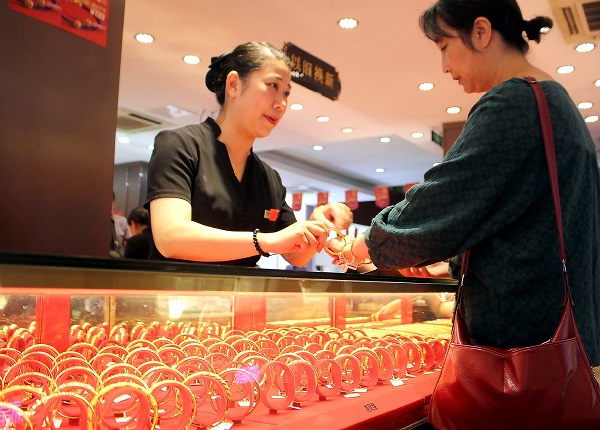 A customer tries a golden bracelet at a jewelry store in Suzhou, Jiangsu province. [Photo by Wang Jiankang/For China Daily]
About CHINA MINING
China Mining Conference and Exhibition (CHINA MINING) is officially supported by Ministry of Natural Resources China. Since first held in 1999, CHINA MINING has become one of the world's top mining events and one of the world's largest mining exploration, development and trading platforms, covering all aspects of the whole mining industry chain, including survey and evaluation, exploration and mining, techniques and equipment, investment and finance, trade and services, etc., playing an active promotion role in creating exchange opportunities and enhancing mutual cooperation between domestic and foreign mining enterprises.
China Mining Conference and Exhibition 2020 will be held IN Tianjin China on October 22-24, 2020. We invite you to join the event and to celebrate the 22nd anniversary of CHINA MINING with us. For more information about CHINA MINING, please visit: www.chinaminingtj.org.