Move of central SOE to ensure supply of raw materials amid COVID pandemic and further increase self-sufficiency
Aluminum Corporation of China Ltd (Chalco), a centrally administered State-owned enterprise, is set to send its first shipment from a bauxite mine in Boffa, Guinea soon, the company told China Daily in a written statement.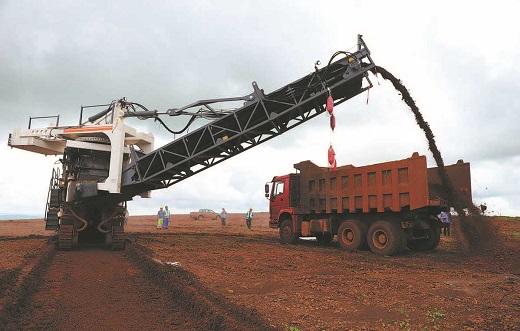 Chalco employees load bauxite onto a truck at a mine in Guinea. [Photo by Meng Fankai/for China Daily]
A large ocean-going ship laden with high quality bauxite from Boffa in Guinea, Chalco's first large-scale overseas aluminum project, is about to arrive at the Fangchenggang port in the Guangxi Zhuang autonomous region, the company said.
The project, a major cooperation project between China and Guinea that started construction in 2018, will be completed two months ahead of schedule. It will not only bring mutual benefits and win-win results for both sides but also become an important source of overseas bauxite resources for Chalco.
Bauxite is a rock which can be refined and is the main source in the world for aluminum.
Chalco is a leading company in China's nonferrous metals industry. It is engaged in the whole value chain by exploring and mining bauxite and coal. The company is active in the production, sales, research and development of alumina, primary aluminum and aluminum alloy products.
It is also involved in international trade, logistics, and power generation from both fossil fuels and new energy products.
Industry analysts believe the Boffa project plays a significant role in ensuring the company's sourcing of raw materials.
"China's mining companies have been going overseas to secure a stable supply of raw materials. Chalco, the largest State-owned aluminum producer, has entered into an agreement to develop the Boffa bauxite in Guinea, in order to increase its self-sufficiency in bauxite to 75 percent by the end of 2021," said Zhu Yi, a senior analyst for metals and mining at Bloomberg.
Zhu believes the full production ramp-up of the Boffa mine could lift Chalco's bauxite output by 80 percent by the end of 2021. The mine has an expected life span of 60 years with full-capacity annual production forecast at 12 million metric tons.
The company said the initial phase consists of production of 12 million tons of bauxite ore per year. The available resource reserves in the mining area of the project is around 1.75 billion tons, and the company plans first phase construction with an annual output capacity of 12 million tons.
Zhu said Chalco has been investing to increase its self-sufficiency of raw materials such as bauxite and alumina, and increasing its ratio of captive power to reduce costs amid ample output of aluminum of China.
Producing aluminum is energy intensive, with power costs accounting for more than 40 percent of total production costs.
It is believed the new infrastructure plan will also boost China's aluminum consumption and push for structural changes of China's aluminum industry to produce more high value-added products.
China has pledged fresh efforts to push forward the construction of new infrastructure, including next-generation information networks, 5G applications, as well as building more new energy vehicle charging facilities to promote the wider use of new energy automobiles, a government work report delivered at the annual national legislative session said.
Xu Xianping, a former deputy head of the National Development and Reform Commission, said the country's investment in "new infrastructure" is expected to reach 17.5 trillion yuan ($2.47 trillion) for the 2020-2025 period, an annualized growth rate of around 21.6 percent.
While China's aluminum industry is currently oversupplied with low-end commodity grade products, it is in a supply deficit for high-end products. The construction of inter-city high speed train and 5G base station requires high-end aluminum products. This will drive domestic producers, including Chalco, to upgrade their product mix, said Zhu.
She believes China's exports of aluminum products will decline this year by around 10 percent, due to falling downstream demand overseas.
The demand from export-oriented home appliance and auto producers for aluminum products will also fall, as these producers find it difficult at this time to export, she said.
Chalco said as the COVID-19 pandemic develops overseas, the company has hired local medical teams to provide guidance and support for workers at the Boffa project to ensure their security and well-being.
The company has also been teaming up with local partners to sustain its project even though many infrastructure project operations overseas have been slowed by the disease.
To make sure the project operates on schedule, the Guinea branch of the company has covered all the flight and quarantine expenses to send staff back to Guinea to push the project forward.
All of its overseas units and offices have strictly complied with the COVID-19 prevention and control measures. These measures have laid down protocols for each project in accordance with local conditions, it said.
The firm has donated a huge amount of pandemic-prevention supplies, including masks, gloves and protective clothing, as well as medical equipment worth more than 1.54 million yuan to several countries.
Those countries include Italy, Germany, Canada, the United States, France, Spain, South Africa, Brazil, South Korea, Japan, Saudi Arabia, Indonesia, Malaysia, Sri Lanka, Thailand, Singapore, India, Vietnam, Australia and Venezuela, it said.(By Zheng Xin)
About CHINA MINING
China Mining Conference and Exhibition (CHINA MINING) is officially supported by Ministry of Natural Resources China. Since first held in 1999, CHINA MINING has become one of the world's top mining events and one of the world's largest mining exploration, development and trading platforms, covering all aspects of the whole mining industry chain, including survey and evaluation, exploration and mining, techniques and equipment, investment and finance, trade and services, etc., playing an active promotion role in creating exchange opportunities and enhancing mutual cooperation between domestic and foreign mining enterprises.
China Mining Conference and Exhibition 2020 will be held at Tianjin Meijiang Convention Center of Tianjin China on October 22-24, 2020. We invite you to join the event and to celebrate the 22nd anniversary of CHINA MINING with us. For more information about CHINA MINING, please visit: www.chinaminingtj.org.