TAIYUAN - China Taiyuan coal transaction price index stood at 136.71 points Monday, down 0.34 percent week on week.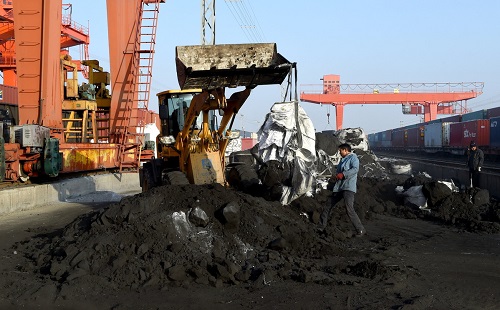 A worker carries out unloading operations at a coal plant in Ereenhot in the Inner Mongolia autonomous region. [Photo/Xinhua]
The index, released by China Taiyuan Coal Transaction Center (CTCTC) based in Shanxi, a coal-rich province, reflects the coal price levels and changes in the main production areas of China. It is published every Monday.
Analysts said the price declines came after coal consumption has peaked as the autumn is coming and power plants are destocking stored coal and currently have little interest in making large purchases.
With more than 10,000 registered coal traders, the CTCTC is the largest coal trading center in China.
About CHINA MINING
Since first held in 1999, the scope and influence of CHINA MINING has grown rapidly year by year. As a global mining summit forum and exhibition, CHINA MINING Conference and Exhibition has become one of the world's top mining events, and one of the world's largest mining exploration, development and trading platforms, covering all aspects of the whole mining industry chain, including geological survey, exploration and development, mining rights trading, mining investment and financing, smelting and processing, mining techniques and equipment, mining services, etc. playing an active promotion role in creating exchange opportunities and enhancing mutual cooperation between domestic and foreign mining enterprises.
CHINA MINING Conference and Exhibition 2019 will be held at Tianjin Meijiang Convention Center of Tianjin China on October 9-11, 2019. We invite you to join the event and to celebrate the 21st anniversary of CHINA MINING with us. For more information about CHINA MINING, please visit: www.chinaminingtj.org.