BEIJING - China's crude oil output gained 2.5 percent year-on-year in July, data from the National Bureau of Statistics (NBS) showed Wednesday.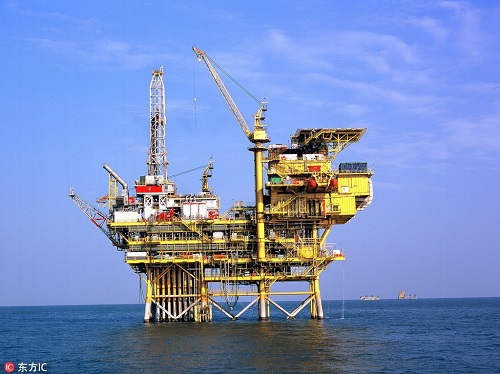 A file photo shows an oil rig in the Bohai Bay operated by China National Offshore Oil Corp. [Photo/IC]
The growth accelerated from a rise of 1 percent registered in June, according to the NBS.
The country's crude oil output came in at 16.3 million tons last month, bringing the total in the first seven months to 111.31 million tons.
As one of the world's largest oil buyers, the country imported 41.04 million tons of crude oil last month, surging 13.9 percent from the same period last year.
Its natural gas production totaled 13.9 billion cubic meters, up 6.1 percent year-on-year, the NBS data showed.
In the sector of coal, the output reached 320 million tons, up 12.2 percent year-on-year.
China aims to increase its annual domestic crude oil output to more than 200 million tons by 2020, while domestic natural gas supply capacity should exceed 360 billion cubic meters.
About CHINA MINING
Since first held in 1999, the scope and influence of CHINA MINING has grown rapidly year by year. As a global mining summit forum and exhibition, CHINA MINING Conference and Exhibition has become one of the world's top mining events, and one of the world's largest mining exploration, development and trading platforms, covering all aspects of the whole mining industry chain, including geological survey, exploration and development, mining rights trading, mining investment and financing, smelting and processing, mining techniques and equipment, mining services, etc. playing an active promotion role in creating exchange opportunities and enhancing mutual cooperation between domestic and foreign mining enterprises.
CHINA MINING Conference and Exhibition 2019 will be held at Tianjin Meijiang Convention Center of Tianjin China on October 9-11, 2019. We invite you to join the event and to celebrate the 21st anniversary of CHINA MINING with us. For more information about CHINA MINING, please visit: www.chinaminingtj.org.