Country looks inward for high-tech materials
China is sitting atop the biggest trove of strategic rare earth elements on the planet - 40 million metric tons, more than a third of the estimated global total.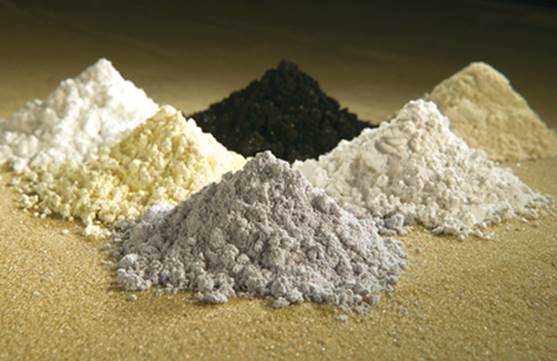 Rare earth oxides. (Clockwise from top center) praseodymium, cerium, lanthanum,
neodymium, samarium, gadolinium. [Photo provided to China Daily]
Remember that periodic table from chemistry class? It's the tabular grid showing the 118 known elements, the building blocks of all matter. The cryptic one-and two-character codes stand for things that touch people's lives every day. Who can forget the combination of hydrogen and oxygen for water, or H2O?
Rare earths are a category of 17 metallic elements in the periodic table that have desirable properties, such as electrical conductivity and magnetism. The metals are used in a wide variety of applications, including cellphone batteries, computers, wind turbines, televisions, fiber optics and missiles. One of the 17 is even used as an expensive bright blue oil paint pigment.
China aims to upgrade its industries to get a piece of the commercial action in such finished products. Whereas the country has been mainly a miner and shipper of rare earths in the past, it now seeks to become a top refiner and manufacturer.
"Rare earths are a key strategic nonrenewable resource," said Pang Zaisheng, vice-general manager of Ganzhou Fortune Electronic Co, which is focusing on high-end magnetic materials and applications in Ganzhou, Jiangxi province.
"With its abundant rare earth resources, China has advantages for separation and purification. But compared with countries like Japan, there's still a gap in terms of high-quality applications."
Jiangxi possesses vast rare earth resources, with its heavy rare earth elements, the most valuable kind, accounting for 80 percent of the nation's total stock.
Recent moves by the government in the sector followed in the wake of President Xi Jinping's visit to JL MAG Rare-Earth Co in Ganzhou in late May, during which he pulled rare earths into the spotlight. The science and technology for exploiting them needed to reach a higher level, he said.
The vision is for China to be more self-reliant in the manufacture of high-end products.
Rare earth metals are distributed throughout the planet's crust, so they are technically not so much rare as they are difficult to find in concentrated amounts. The process of extracting and refining them is labor-and resource-intensive - and costly - so little is produced. Few high-end processors exist globally.
"To better utilize this strategic resource, we need to continually keep on top of rare earth separation and purification," said Mei Xinyu, a researcher at the Chinese Academy of International Trade and Economic Cooperation. "As a modern industrial country, China needs to maintain a competitive edge in manufacturing, not just natural resources. It needs to gear up in the intensive field of rare earth processing and offer more finished products."
Seeing huge potential in the field, the central government is pushing to take better advantage of the country's rare earth resources by streamlining markets and improving the management of materials from extraction to high-quality finished commodities, industry experts and company executives said.
"With a unique set of properties that can make products more durable and efficient, rare earth materials are critical ingredients in a wide range of modern technologies - new sensors, pollutant treatment catalysts and much more - providing basic support for people's future needs," said Xu Shuo, a researcher at the Qianzhan Industry Research Institute, who pointed to smart homes, smart cars and magnetic levitation as examples.
The government is plowing ahead. In June, the country's top economic planner, the National Development and Reform Commission, together with the Ministry of Industry and Information Technology and the Ministry of Natural Resources, began detailed surveys in seven areas rich in rare earth deposits - the Inner Mongolia and Guangxi Zhuang autonomous regions and the provinces of Jiangxi, Fujian, Hunan, Guangdong and Sichuan.
Local authorities have been asked to provide information on issues related to the protection and application of the resources, according to a report citing an NDRC circular.
The surveys will focus on industrial chains, experience in resource management, major problems and plans for future development.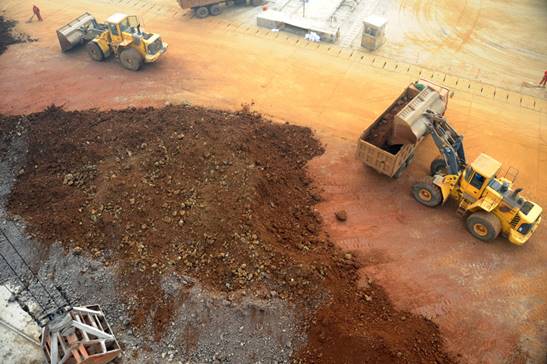 Wheel loaders load trucks with rare earth at the Port of Lianyungang in Lianyungang city,
East Chinas Jiangsu province, Nov 6, 2010. [Photo/IC]
Heavy vs light
Permanent magnet materials and products are the most widely used forms of rare earth, representing around 70 percent of all applications, Ganzhou Fortune Electronic Co's Pang said.
Heavier rare earth elements, which are relatively abundant in Ganzhou, account for about 5 percent in mixtures with lighter ones. These heavier metals are necessary for the more sophisticated products.
"Compared with light rare earths, heavy ones are more valuable," Pang said. "Light rare earth resources are not that rare globally, but heavy rare earth materials are really scarce. And China has the biggest heavy rare earth reserves in the world."
The Ganzhou-based company, founded in 2011, now has an annual production capacity of 2,000 tons of high performance, sintered magnetic metals - metals that are merged in a heating process. Its products are widely used in energy-saving motors, new energy vehicles, information technology, unmanned aerial vehicles, medical equipment, energy-saving household appliances and high-tech trains.
The company reported a surge in revenues of nearly 30 percent year-on-year, hitting 130 million yuan in 2018.
China Northern Rare Earth (Group) High-tech Co in Baotou, Inner Mongolia, the country's largest rare earth miner and producer of refined metals, is also gearing up to expand its high-end rare earth offerings. It predicts its revenues will surge to 24 billion yuan in 2020 from 13.96 billion yuan last year.
"More efforts are needed to meet the growing demand for some light rare earths, to better regulate mining and processing, to encourage the import of more qualified overseas rare earth resources and to foster the sustainable development of domestic resources," a company spokesman said.
Leaks in system
Rare earth exports by China fell to 3,640 tons in May from 4,329 tons in April, according to the General Administration of Customs. For the first five months of this year, China exported 19,267 tons of rare earths, down 7.2 percent year-on-year.
Meanwhile, prices rose. The price of neodymium (a metal used in magnets and speakers) increased 26.5 percent in late May from $50 per kilogram to $63.25 per kg. Dysprosium (a metal used in lasers), erbium oxide and gadolinium oxide (used in medical imaging and fuel cells) were up around 10 percent in early summer, Reuters reported.
But trade was affected little. The US government has exempted rare earths from its tariffs on Chinese goods.
"China's rare earth export quota didn't have the desired effect on the importing countries, especially Western countries, because smuggling of rare earths was rampant and some export companies falsified the customs code to evade the quota and continued to export them," Jin Baisong, a retired researcher at the international trade academy, told China Daily. Also, customers are able to buy from other suppliers or seek their own new sources.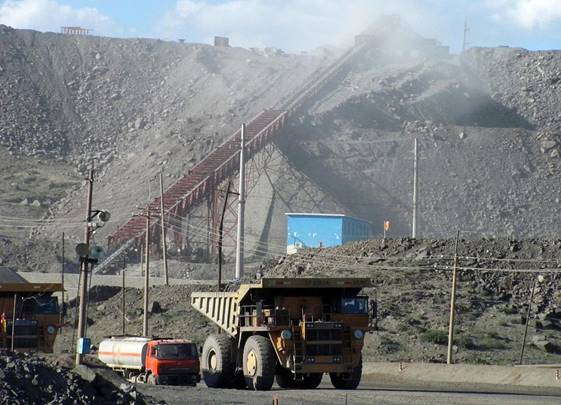 A truck hauls rare earth from a mine in Baotou, North China's Inner Mongolia autonomous region. [Photo/VCG]
New research
China currently produces around 80 percent of the world's supply of raw rare earths. But the domestic industry is plagued by illegal mining and production, lack of innovation and environmental violations.
A tectonic shift could be in the making for the whole rare earth industry worldwide.
A study published earlier this month in the journal Physical Review Letters by researchers from three universities - the University of Michigan in the United States, together with France's Lorraine and the UK's Cambridge universities - found that more common elements could be combined to make electronically useful materials that could replace some rare earths at much lower cost in the future.
A report about the study for newatlas.com by Michael Irving on July 5, noted efforts by some companies, such as Honda and Samsung, to recycle rare earth materials and deal with "the ever-growing e-waste problem". The researchers lauded such initiatives but suggested that "it would be easier to just use cheaper alternatives" for some applications.
Their study found that combining elements from neighboring groups in the Periodic Table could create compounds with properties similar to rare earth metals for lighting and solar panels. Researchers were able to produce the compounds in a thin-film form by layering more common elements "with atomic precision", Irving wrote.
He quoted Roy Clarke, one of the study's authors, as saying: "It's not viable for technology to rely on something that's likely to run out on a scale of 10 to 20 years."
Rare earths at a glance
·Rare earth elements are used in a wide range of consumer and military products, from iPhones to electric car motors, jet engines, satellites and lasers. China is a major supplier.
·Rare earth metals are a group of 17 elements. They are considered rare because they appear in low concentrations in nature and are difficult and costly to mine and process.
·China has most of the world's processing capacity. In 2017, China accounted for 81 percent of the world's rare earth production, according to the US Geological Survey.
·Few alternative suppliers are able to compete with China, which is home to 37 percent of global rare earth reserves.
·California's Mountain Pass mine is the only operating US rare earth facility. It ships roughly 50,000 metric tons of rare earth concentrates extracted annually in California to China for processing. Rare earths are also mined in India, South Africa, Canada, Australia, Estonia, Malaysia and Brazil.
How are they used?
Rare earth elements are used in rechargeable batteries for electric and hybrid cars, advanced ceramics, computers, DVD players, wind turbines, catalysts for cars and oil refineries, monitors, televisions, lighting, lasers, fiber optics, superconductors and glass polishing.
Several rare earth elements, such as neodymium and dysprosium, are critical to the motors used in electric vehicles. A bright blue oxide called YInMn Blue, which includes the rare earth Yttrium, is used in oil paints for artists.
Military applications
Some rare earth minerals are essential in military equipment, including jet engines, missile guidance systems, anti-missile defense systems, satellites and lasers. Lanthanum, for example, is needed to manufacture night vision devices.
Who depends on Chinese supplies?
Companies such as Raytheon, Lockheed Martin and BAE Systems in the US all make sophisticated missiles that use rare earth metals in their guidance systems and sensors. Other companies in Europe and elsewhere also need them.
Apple Inc uses rare earth elements in speakers, cameras and the so-called "haptic" engines that make its phones vibrate. The company says the elements are not available from traditional recyclers because they are used in such small amounts they cannot be recovered.
What about prices?
Prices held largely steady for months, but export prices of an array of rare earth elements have rallied strongly over the last couple of months. President Xi Jinping visited a processing company in southern China in May, bringing the sector into the spotlight.
So far, the US government has exempted rare earths from tariffs on Chinese goods.
The price of neodymium (a metal used in magnets and speakers) increased 26.5 percent in late May from $50 per kilogram to $63.25 per kg. Dysprosium (a metal used in lasers), erbium oxide and gadolinium oxide (used in medical imaging and fuel cells) were up around 10 percent in early summer.
Yuan Hui in Hohhot and Wang Jian in Nanchang contributed to this story.( By Ouyang Shijia)
About CHINA MINING
Since first held in 1999, the scope and influence of CHINA MINING has grown rapidly year by year. As a global mining summit forum and exhibition, CHINA MINING Conference and Exhibition has become one of the world's top mining events, and one of the world's largest mining exploration, development and trading platforms, covering all aspects of the whole mining industry chain, including geological survey, exploration and development, mining rights trading, mining investment and financing, smelting and processing, mining techniques and equipment, mining services, etc. playing an active promotion role in creating exchange opportunities and enhancing mutual cooperation between domestic and foreign mining enterprises.
CHINA MINING Conference and Exhibition 2019 will be held at Tianjin Meijiang Convention Center of Tianjin China on October 9-11, 2019. We invite you to join the event and to celebrate the 21st anniversary of CHINA MINING with us. For more information about CHINA MINING, please visit: www.chinaminingtj.org.