China National Offshore Oil Corporation, China's largest producer of offshore oil and gas, has signed a strategic framework agreement with the Abu Dhabi National Oil Company to explore new opportunities for collaboration in both upstream and downstream sectors, as well as in liquid natural gas, on Monday.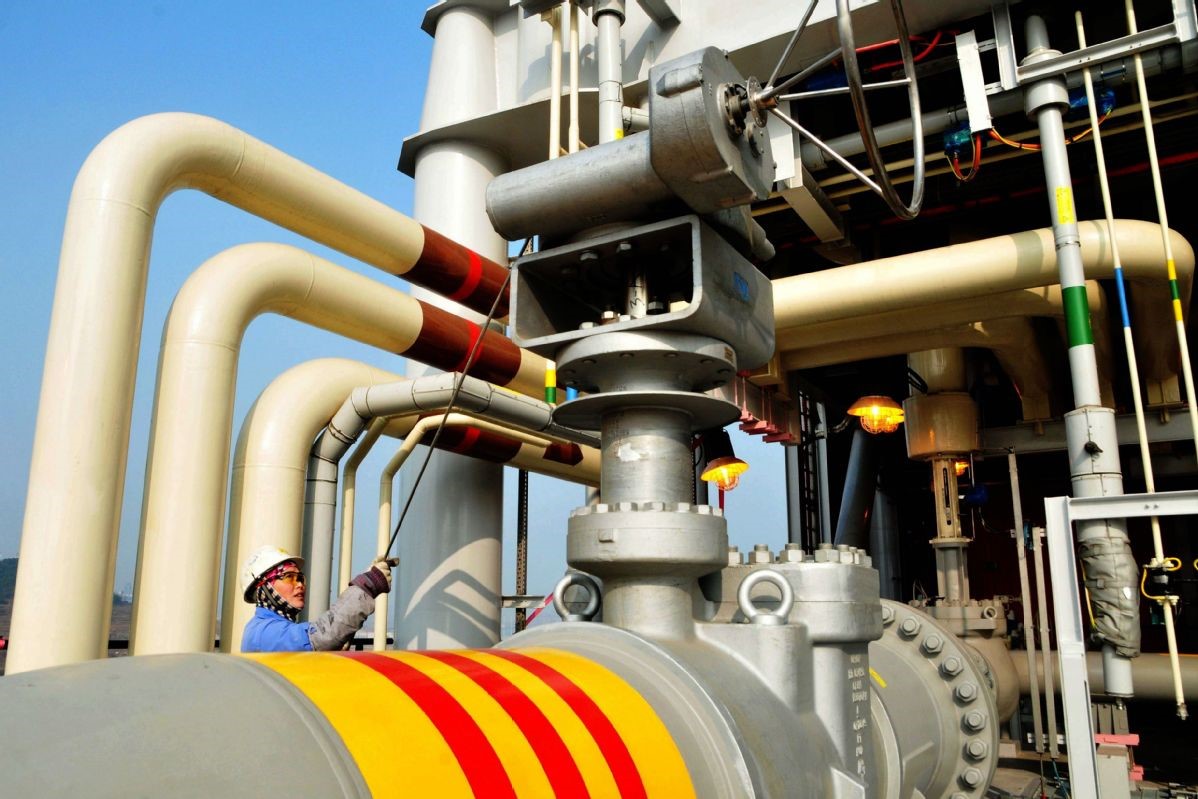 An employee of CNOOC cleans LNG transmission facilities in Qingdao, Shandong province. [Photo by Yu Fangping/For China Daily]
The two sides have also agreed to share knowledge, practices and proven technologies in the area of ultra-sour gas development to improve operational efficiency in sour gas processing and treatment, boosting efficiency as well as improving field and reservoir development plans.
The two oil and gas giants vowed to further explore potential opportunities in offshore oil and gas field assets in Abu Dhabi.
"The agreement will further deepen China's energy cooperation with countries and regions participating the Belt and Road, building a closer community of shared future in the energy sector," said Yang Hua, chairman of CNOOC. "Both CNOOC and ADNOC will embrace broadened opportunities for future cooperation and enjoy the fruits of this mutually-beneficial partnership."
The agreement is of great significance for CNOOC, as it is an opportunity to promote the development of its overseas oil and gas business, diversify import resources and optimize the integrated upstream, midstream and downstream industrial chain, he said.
CNOOC and ADNOC have also agreed to jointly explore potential LNG sales and purchase opportunities, share specific knowledge and expertise in LNG markets and evaluate potential partnerships and joint-investment opportunities across the entire LNG value chain. (By Zheng Xin)
About CHINA MINING
Since first held in 1999, the scope and influence of CHINA MINING has grown rapidly year by year. As a global mining summit forum and exhibition, CHINA MINING Conference and Exhibition has become one of the world's top mining events, and one of the world's largest mining exploration, development and trading platforms, covering all aspects of the whole mining industry chain, including geological survey, exploration and development, mining rights trading, mining investment and financing, smelting and processing, mining techniques and equipment, mining services, etc. playing an active promotion role in creating exchange opportunities and enhancing mutual cooperation between domestic and foreign mining enterprises.
CHINA MINING Conference and Exhibition 2019 will be held at Tianjin Meijiang Convention Center of Tianjin China on October 9-11, 2019. We invite you to join the event and to celebrate the 21st anniversary of CHINA MINING with us. For more information about CHINA MINING, please visit: www.chinaminingtj.org.