BEIJING -- China's oil and gas industry saw steady growth in 2018, with expansion reported in both proven reserves and annual output, according to the Ministry of Natural Resources on Monday.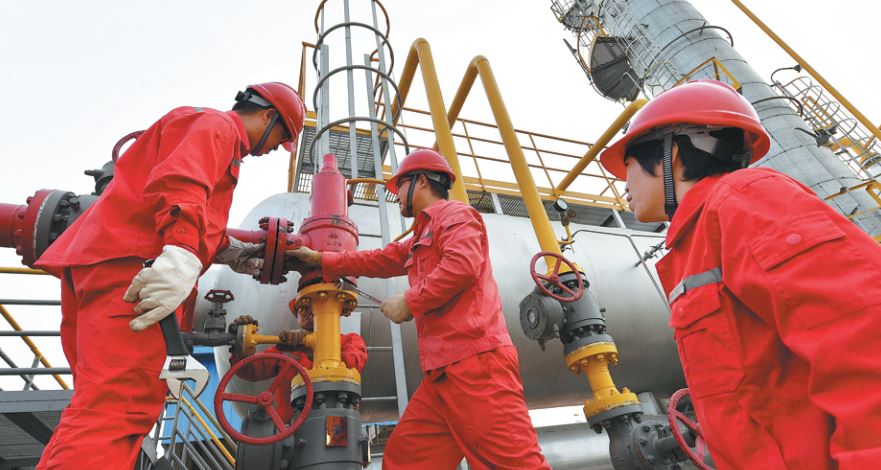 Technicians check gas storage facilities in Puyang, Henan province. [Photo by Ma Hongshan/for China Daily]
In 2018, national exploration of oil and gas saw a total investment of 63.66 billion yuan (about $9.26 billion), up 8.9 percent year on year, the ministry said in a report on its website.
Investment in oil and gas exploitation rose 24.7 percent to reach 203.11 billion yuan, according to the ministry.
Newly added proven oil reserves stood at 959 million tonnes in 2018, a 9.4-percent rise after declining for two consecutive years.
During the same period, proven natural gas oil reserves saw an increase of 831.16 billion cubic meters, up 49.7 percent year on year, the ministry said.
China's petroleum output in 2018 remained stable at 189 million tonnes, down 1.2 percent from a year ago.
Meanwhile, the country's natural gas production, posting faster expansion, rose 6.4 percent year on year to 141.51 billion cubic meters.
Notable progress was made last year in oil and gas exploration theory as well as innovation of exploitation technologies, according to the ministry.
About CHINA MINING
Since first held in 1999, the scope and influence of CHINA MINING has grown rapidly year by year. As a global mining summit forum and exhibition, CHINA MINING Conference and Exhibition has become one of the world's top mining events, and one of the world's largest mining exploration, development and trading platforms, covering all aspects of the whole mining industry chain, including geological survey, exploration and development, mining rights trading, mining investment and financing, smelting and processing, mining techniques and equipment, mining services, etc. playing an active promotion role in creating exchange opportunities and enhancing mutual cooperation between domestic and foreign mining enterprises.
CHINA MINING Conference and Exhibition 2019 will be held at Tianjin Meijiang Convention Center of Tianjin China on October 9-11, 2019. We invite you to join the event and to celebrate the 21st anniversary of CHINA MINING with us. For more information about CHINA MINING, please visit: www.chinaminingtj.org.