DALIAN - The world's first intelligent very large crude carrier (VLCC) with loading capacity of 308,000 tonnes was delivered to its customer in the coastal city of Dalian in Northeast China's Liaoning province on Saturday.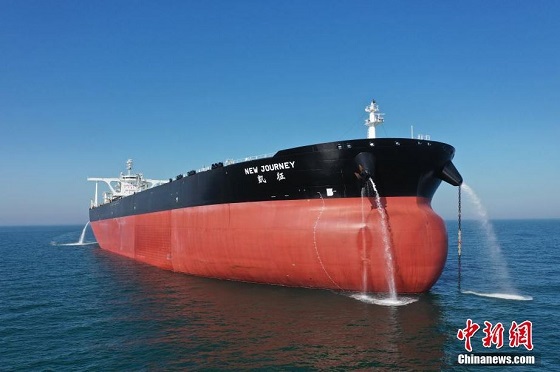 File photo of the intelligent very large crude carrier New Journey. [Photo/Chinanews.com]
The VLCC, called New Journey, has the functions of assisted autopilot navigation, intelligent liquid cargo management, integrated energy efficiency management, equipment operation and maintenance, and communication between ship and shore.
With 45 days of intelligent equipment and system installation and testing, the carrier has passed its sea trial.
The New Journey is the 97th VLCC delivered by Dalian Shipbuilding Industry of China Shipbuilding Industry Corporation.
About CHINA MINING
Since first held in 1999, the scope and influence of CHINA MINING has grown rapidly year by year. As a global mining summit forum and exhibition, CHINA MINING Conference and Exhibition has become one of the world's top mining events, and one of the world's largest mining exploration, development and trading platforms, covering all aspects of the whole mining industry chain, including geological survey, exploration and development, mining rights trading, mining investment and financing, smelting and processing, mining techniques and equipment, mining services, etc. playing an active promotion role in creating exchange opportunities and enhancing mutual cooperation between domestic and foreign mining enterprises.
CHINA MINING Conference and Exhibition 2019 will be held at Tianjin Meijiang Convention Center of Tianjin China on October 9-11, 2019. We invite you to join the event and to celebrate the 21st anniversary of CHINA MINING with us. For more information about CHINA MINING, please visit: www.chinaminingtj.org.