China, the world's top producer of rare-earth elements, recently conducted surveys of areas rich in deposits in an effort to better exploit those strategic resources and foster high-quality development of commodities.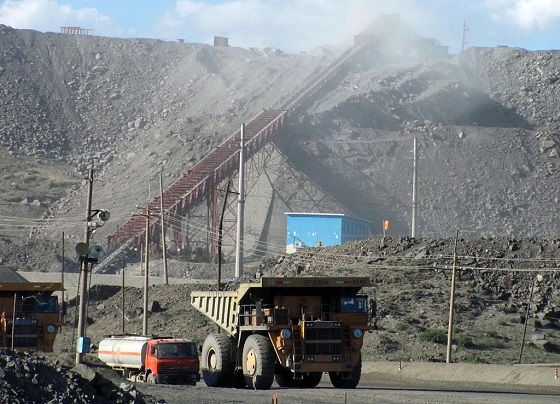 A truck hauls rare earth from a mine in Baotou, North China's Inner Mongolia autonomous region. [Photo/VCG]
The National Development and Reform Commission, Ministry of Industry and Information Technology and Ministry of Natural Resources started detailed surveys on Monday in seven areas. They include the Inner Mongolia and Guangxi Zhuang autonomous regions and Jiangxi, Fujian, Guangdong, Hunan and Sichuan provinces, according to China Securities Journal.
Local authorities were told to provide information about protecting, developing and applying the resources, the newspaper said, citing a circular from the NDRC.
The survey will focus on areas such as industrial chains, achievements and experiences in resources conservation and application, major problems and development plans, according to the circular. Neither the NDRC nor the Ministry of Industry and Information Technology responded to requests for comment.
"China's goal for rare-earth development is to form a new pattern for industry with a reasonable development pace, orderly production quotas, efficient utilization, scientific and technological innovation and coordinated development with high-end manufacturing," said Zhang Rui, an analyst at Beijing Antaike Information Co.
"As China is keen to push the industry to enter the development stage with high-end applications and higher value-added products, the government is gradually giving full play to the strategic value of rare-earth applications to upgrade the sector and reduce the environmental effects of unsustainable processing methods." Zhang added.
Shares in rare-earth-related companies soared significantly on Wednesday amid an increased focus on the raw materials and their industrial upgrading, according to Shanghai-based information provider Wind Info.
Rare earths, a series of metallic chemical elements, are used in production in a wide range of sectors from high-tech consumer electronics to military equipment.
The NDRC recently held three seminars with industry experts, key companies and local government officials to discuss the nation's efforts to better utilize rare earths, improve industrial structure and protect resources.
The NDRC said it will enact key measures to rectify the rare-earth market order, improve management of the market, create a better business environment, make breakthroughs in key rare-earth-related technologies and crack down on violations of laws and regulations.
"China's rare-earth export quota didn't have the desired effect on the importing countries, especially Western countries, because smuggling of rare earths was rampant and some export companies falsified customs codes to evade the export quota and continued to export them to other countries," Jin Baisong, a retired researcher at the Chinese Academy of International Trade and Economic Cooperation, said in an article published on China Daily's website.
About CHINA MINING
Since first held in 1999, the scope and influence of CHINA MINING has grown rapidly year by year. As a global mining summit forum and exhibition, CHINA MINING Conference and Exhibition has become one of the world's top mining events, and one of the world's largest mining exploration, development and trading platforms, covering all aspects of the whole mining industry chain, including geological survey, exploration and development, mining rights trading, mining investment and financing, smelting and processing, mining techniques and equipment, mining services, etc. playing an active promotion role in creating exchange opportunities and enhancing mutual cooperation between domestic and foreign mining enterprises.
CHINA MINING Conference and Exhibition 2019 will be held at Tianjin Meijiang Convention Center of Tianjin China on October 9-11, 2019. We invite you to join the event and to celebrate the 21st anniversary of CHINA MINING with us. For more information about CHINA MINING, please visit: www.chinaminingtj.org.