PetroChina starts drilling work on 47 wells in Jimsar to unlock potential reserves
Intensified efforts by Chinese oil and gas companies to tap the country's huge shale oil reserves have started paying off, helping bolster the country's energy security, experts said.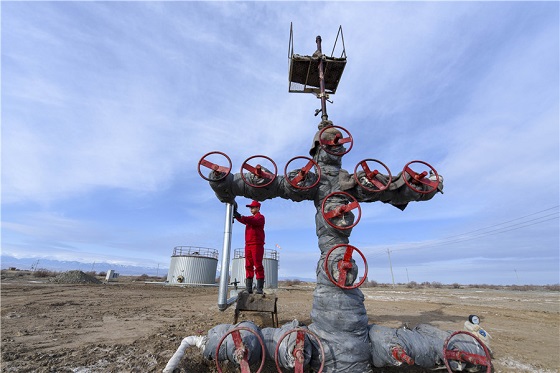 An employee checks extraction equipment at the Jimsar shale oil field in the Xinjiang Uygur autonomous region. [Photo by Hu Huhu / Xinhua]
The Xinjiang branch of China National Petroleum Corp, or PetroChina, China's largest oil and gas producer and supplier, has started drilling work on 47 wells at the Jimsar shale oil field, using 36 drilling rigs, with work on eight wells already completed, the company said.
The area has one of the largest recoverable shale oil resources in China, containing about 1 billion metric tons of oil. According to the company's development plan, crude oil output in Jimsar will reach 1 million tons in 2021 and annual output of 2 million tons from 2025 for a period of nine years.
Buoyed by the target, the company is already charting plans to ramp up crude oil production capacity to 1 million to 1.2 million tons from the area within this year.
It plans to activate 45 drill rigs to drill 100 wells and fracture 55 wells within this year, including 43 new wells, the company said. Fracturing is a process by which cracks are created in the shale rocks so that natural gas and oil flows out more freely for collection.
Huang Lei, an executive at the shale oil unit of PetroChina's Xinjiang branch, said the production capacity in the Xinjiang Uygur autonomous region will reach a peak within two to three years.
As the exploitation of shale oil in Jimsar is speeding up, the massive application of drill rigs and fracturing systems will significantly reduce the shale oil production costs, said Huang.
Xian Chenggang, dean of Unconventional Petroleum Research Institute, an affiliate of the China University of Petroleum (Beijing), said that the Ordos Basin and Jimsar have the best potential for shale oil generation in China.
Progress in the area has been significant, considering the exploitation and utilization of unconventional oil and gas, including shale oil, shale gas and tight oil, is integral for sustainable oil and gas supplies in China, he said.
"China has abundant recoverable unconventional oil and gas resources, and development of unconventional oil and gas benefits national energy security," he said.
Most countries lacking conventional oil and gas resources are now making efforts to develop oil and gas from unconventional sources, Xian said.
In China, the development of unconventional oil and gas resources has already become mainstream, thanks to technology advancement, and also because many conventional resources available have already been exploited, and most of the newly detected resources are unconventional, according to Xian.
He said that Chinese companies have developed a complete set of mature technologies suitable for recovering shale oil in China, and the main challenges now for economic shale oil production are mainly the project management and operational costs.
Wang Zhiming, a professor with the China University of Petroleum (Beijing), said that shale gas output in China will reach approximately 20 billion cubic meters in 2020, and will grow exponentially within five to 10 years.
That is because China has made remarkable progress in the past decade to develop shale gas technologies suitable for geographic conditions in China, and many demonstration projects have been established in areas such as Southwest China's Sichuan province, he said.
Figures from PetroChina showed its shale gas output in Sichuan province reached 4.27 billion cubic meters in 2018, with a year-on-year growth of 40 percent, and daily output in southern Sichuan reached 20.11 million cm, increasing 119.3 percent from 2017.
To accelerate the development of shale gas, more demonstration projects should be established in other resources-rich areas, such as in Xinjiang, Shanxi province, and Northeast China, and more technological innovation should be made, he said.
China is currently the world's largest crude oil and gas importer, importing 440 million tons of crude oil and 125.4 billion cubic meters of gas in 2018, up 11 percent and 31.7 percent year-on-year. The foreign oil and gas dependence ratio reached 69.8 percent and 45.3 percent, according to PetroChina's Economics and Technology Research Institute.
According to the International Energy Agency, China has recoverable shale oil reserves of about 5 billion tons, second only to Russia and the United States.
Statistics from the Ministry of Natural Resources showed China has recoverable shale gas resources of about 21.8 trillion cubic meters, ranking top in the world.( By Liu Zhihua in Beijing and Mao Weihua in Urumqi)
Zheng Xin contributed to this story.
About CHINA MINING
Since first held in 1999, the scope and influence of CHINA MINING has grown rapidly year by year. As a global mining summit forum and exhibition, CHINA MINING Conference and Exhibition has become one of the world's top mining events, and one of the world's largest mining exploration, development and trading platforms, covering all aspects of the whole mining industry chain, including geological survey, exploration and development, mining rights trading, mining investment and financing, smelting and processing, mining techniques and equipment, mining services, etc. playing an active promotion role in creating exchange opportunities and enhancing mutual cooperation between domestic and foreign mining enterprises.
CHINA MINING Conference and Exhibition 2019 will be held at Tianjin Meijiang Convention Center of Tianjin China on October 9-11, 2019. We invite you to join the event and to celebrate the 21st anniversary of CHINA MINING with us. For more information about CHINA MINING, please visit: www.chinaminingtj.org.