Investment and opening-up highlight companies' trust in cooperation and development
China's opening-up measures and concrete contributions to the operation of the global supply chain will create more growth opportunities for Australian mining groups such as Rio Tinto, BHP Group and Fortescue Metals to further tap into soaring demand, said analysts and business leaders.
China is the world's largest steel producer and biggest iron ore consumer, with imported iron ore taking up the majority of its total consumption, said Ding Rijia, a professor specializing in the energy economy at China University of Mining and Technology in Beijing.
"Australia is the largest iron ore supplier for China due to its rich resources and relative proximity, and China also needs Australian companies to manufacture products such as steel structures, vehicles, container vessels, trains and other industrial goods," he said.
Bloomberg Intelligence data showed that the Oceanian country accounted for 55 percent of China's total iron ore imports in 2021 and 61 percent in 2020, followed by Brazil (19 percent in 2021 and 20 percent in 2020).
For instance, Australian mining and metals giant Rio Tinto Group and Shanghai-based China Baowu Steel Group sealed a deal to set up a joint venture to develop a new iron ore mine in Western Australia's Pilbara region to further meet China's soaring demand for iron ore.
With a total investment of $2 billion and an annual production capacity of 25 million metric tons, the project work is expected to begin in early 2023 with production anticipated in 2025. China Baowu will hold 46 percent and Rio Tinto will take a 54 percent stake.
The two sides have also forged an agreement to sell up to 126.5 million tons of iron ore at market prices over 13 years.
Moreover, Rio Tinto and China Mineral Resources Group signed a memorandum of understanding for strategic cooperation in Shanghai in November.
Located in the Xiong'an New Area in North China's Hebei province, China Mineral Resources Group's business scope covers activities including mining, iron ore processing, import and export of commodities, sales of metal ores, and warehouse and supply management services. Coal mining is not included in its business lines.
The MoU focuses on areas of mutual cooperation related to the iron ore and steel-making value chains, supply chain stability and development, industry decarbonization and mineral resource development.
Since its first iron ore shipment to China in 1973, Rio Tinto has supplied China with more than 3.5 billion tons of high-quality iron ore.
"This new agreement reaffirms Rio Tinto's strong commitment to working with China to achieve high-quality and sustainable development. We are keen to work with China Mineral Resources, as well as China's steelmakers, to drive innovation and help reduce emissions throughout the value chain," said Jakob Stausholm, Rio Tinto's CEO.
Eager to ship more iron ore to China, Australian iron ore conglomerate BHP saw its first shipment of renminbi-based spot trade iron ore dock at a port in East China's Shandong province in July. It demonstrates the company's long-term commitment to the Chinese market, the largest iron ore importer in the world, and to the flexibility of its iron ore sales to better align customer demand with supply chain capability and support liquid and transparent markets to ensure the sustainable development of the iron ore market.
The seaborne and port-side markets are distinct and can coexist, while BHP looks forward to continuing to work with key stakeholders on industry-based solutions which support transparency and fair market access across both channels, said Jeremie Louis, vice-president of marketing and sales (Iron Ore) at BHP.
The vessel Vittoria, loaded with iron ore from a mine in Western Australia, arrived at Rizhao Port, China's major iron ore trading port, two weeks after departing from Port Hedland.
Zhu Yi, a senior analyst with metals and mining at Bloomberg Intelligence, believes the launch of the renminbi-based trade in iron ore is an important step for the Australian company to get closer to the Chinese market, while balancing the possible risks and uncertainties from the US dollar considering soaring inflation in the United States this year.
"As China's yuan gains a foothold in iron ore deals, miners could raise the share of their sales using yuan settlement and more miners will join this trend to meet their Chinese clients' needs," Zhu said.
Zhu said that the yuan settlement of iron ore purchases shows how global miners value the Chinese market as global mining companies, including Australia's Rio Tinto, BHP Group and Fortescue Metals, as well as Brazilian mining giant Vale SA, have all conducted yuan-denominated transactions in China during the past few years.
With China aiming to peak carbon dioxide emissions by 2030 and achieve carbon neutrality by 2060, Australian mining companies are also stepping up efforts and investment for low-carbon solutions along the steel value chain in the country and are establishing cooperation with more local partners.
Rio Tinto announced in September that it had inked a memorandum of understanding with Beijing-headquartered Shougang Group to jointly promote the research and development, design and implementation of low-carbon solutions for the steel industry.
The MoU's focus areas include low-carbon sintering technology, blast furnaces and basic oxygen furnace optimization, and carbon capture and utilization, said the Australian company.
Rio Tinto is not alone. BHP also signed a three-year cooperation agreement in November with Shijiazhuang, Hebei province-based Hegang Group and University of Science and Technology Beijing to jointly carry out innovation in technologies related to low-carbon steel production.
This is after BHP's announcement of a three-year $15 million investment plan to jointly study and explore greenhouse gas emission reduction technologies with Hegang Group in March 2021. Under the agreement, BHP helps fund research and pilot projects including hydrogen-based direct reduction technology, processing and recycling of steelmaking slag, as well as enhanced lump utilization in the blast furnace.
China's commitment to its carbon goals have motivated steel mills to upgrade production lines and invest in green technologies such as hydrogen iron-ore reduction for blast furnaces. These moves have encouraged cooperation between mills and miners in process optimization, said Sun Fuquan, vice-president of the Chinese Academy of Science and Technology for Development.
As the annual China International Import Expo has held high the banner of opening-up and helped deepen international procurement, investment promotion, cultural exchanges and open cooperation, Rio Tinto and BHP also set up their booths for the first time at the grand event during the fifth CIIE held in Shanghai in early November, according to information released by the CIIE Bureau, the expo's organizer.(By Yuan Shenggao)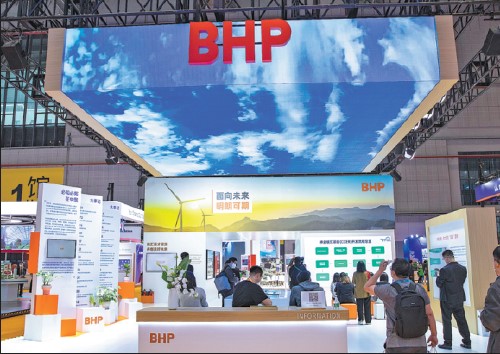 The exhibition booth of BHP at the fifth China International Import Expo. [CHINA DAILY]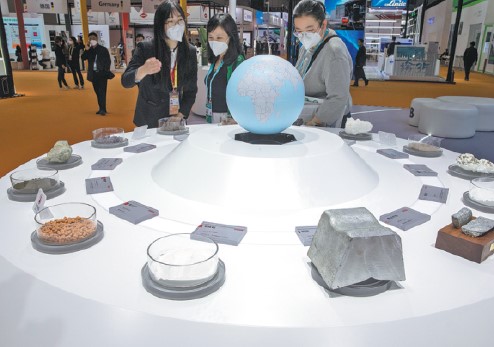 Rio Tinto exhibits its eco-friendly products at the fifth CIIE. [CHINA DAILY]