Business representatives from the BRICS countries pledged Wednesday to enhance multilateral cooperation to safeguard the common interests of emerging markets and developing countries.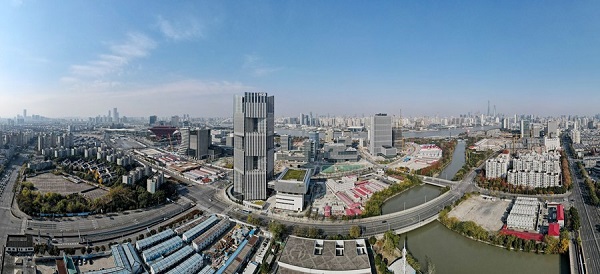 Aerial photo taken on Dec. 17, 2020 shows a panoramic view of the headquarters building of
BRICS New Development Bank in east China's Shanghai. [Photo/Xinhua]
The 2022 annual meeting of the BRICS Business Council was held in Beijing, with about 150 representatives from the council's working groups attending online.
A joint statement on building high-quality partnerships among BRICS countries was published at the meeting, calling for efforts to deepen dialogue and enhance cooperation.
China has cooperated with all parties to leverage professional and resource advantages and promote economic recovery, said Chen Siqing, chairman of the Chinese chapter of the BRICS Business Council.
China will work with business communities among the BRICS countries and adhere to innovation-driven development to enhance growth momentum, Chen added.
The BRICS Business Council was established during the fifth BRICS Summit held in 2013 in Durban, South Africa, with the aim of promoting and strengthening business, trade and investment ties among the business communities of the five BRICS countries.
ABOUT CHINA MINING
CHINA MINING CONFERENCE AND EXHIBITION (CHINA MINING) IS OFFICIALLY SUPPORTED BY MINISTRY OF NATURAL RESOURCES CHINA. SINCE FIRST HELD IN 1999, CHINA MINING HAS BECOME ONE OF THE WORLD'S TOP MINING EVENTS AND ONE OF THE WORLD'S LARGEST MINING EXPLORATION, DEVELOPMENT AND TRADING PLATFORMS, COVERING ALL ASPECTS OF THE WHOLE MINING INDUSTRY CHAIN, INCLUDING SURVEY AND EVALUATION, EXPLORATION AND MINING, TECHNIQUES AND EQUIPMENT, INVESTMENT AND FINANCE, TRADE AND SERVICES, ETC., PLAYING AN ACTIVE PROMOTION ROLE IN CREATING EXCHANGE OPPORTUNITIES AND ENHANCING MUTUAL COOPERATION BETWEEN DOMESTIC AND FOREIGN MINING ENTERPRISES.
With the theme of "Multilateral cooperation—for development and prosperity of post pandemic era", China Mining Conference and Exhibition 2021 (CHINA MINING 2021) was held in Tianjin China on October 21-23, 2021. For more information about CHINA MINING, please visit: www.chinaminingtj.org/en/.