Climate change is a leading agenda item at this year's World Economic Forum in Davos.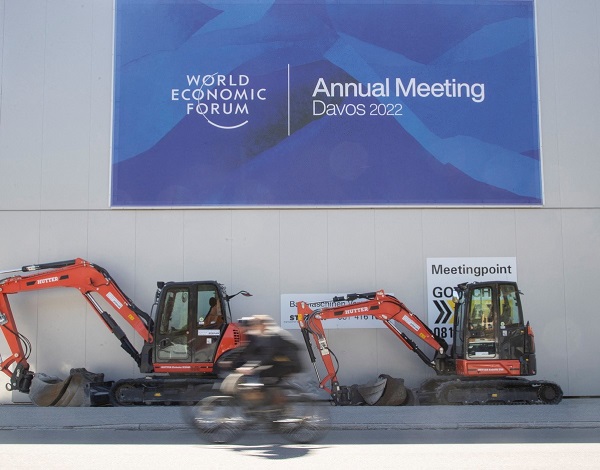 The logo of the upcoming World Economic Forum (WEF) is displayed on a banner in the Alpine resort of Davos,
Switzerland May 11, 2022. [Photo/Agencies]
In the WEF's Global Risks Report 2022, "climate action failure" ranks as the number one long-term threat to the world, and the risk with potentially the most severe impacts over the next decade.
Since the UN Climate Change Conference, or COP26, in Glasgow, Scotland, in November, senior government officials and industrial experts have warned that no nation is moving fast enough with the green transition.
More recently, the conflict in Ukraine has seen several nations, including the United States and the United Kingdom, expand domestic exploration for fossil fuels in pursuit of energy security.
The UK is expected to give approval for several new North Sea oil and gas projects, and it is also exploring the possibility of lifting a ban on hydraulic fracturing, or fracking, and opening a new coal mine.
Against this backdrop, Nicholas Stern, chair of the Grantham Research Institute on Climate Change and the Environment at the London School of Economics, said Davos provides an opportunity to restate the case for renewables.
"The logical conclusion that should be drawn from the current bout of volatility and insecurity in fossil fuel supplies is that countries should drive more quickly toward greater energy efficiency and cleaner alternatives, particularly renewables," Stern said. "Leaders should not be diverted by false claims that the current situation signals that we need more fossil fuels."
He said Davos participants can ensure that international public finance is increased and partnered with the private sector to achieve the necessary scale up and lower cost of investment for renewables.
"Political and business leaders attending Davos should recognise that a failure to accelerate action on climate change is dangerous. It is vital to implement strong policies and increase investment, particularly from the private sector," Stern said.
Ajay Gambhir, senior research fellow at the Grantham Institute for Climate Change and the Environment at Imperial College London, said leaders in Davos can "make a bold statement that this is the most important moment we've faced to maximize energy efficiency and get off fossil fuels".
While the conflict in Ukraine has highlighted European dependence on Russian oil and gas, it also brings a "tremendous opportunity to switch away from these fossil fuels more quickly", Gambhir said.
There is concern that some leaders are already turning their backs on pledges made at COP26, where UK delegates urged other nations to scale back new fossil fuel projects.
UK Prime Minister Boris Johnson has since softened his rhetoric, stating in the recent Energy Strategy that "net zero is a smooth transition, not an immediate execution, for oil and gas", and announcing that the UK would step up exploration in the North Sea.
Asher Minns, executive director of the Tyndall Centre for Climate Change Research at the University of East Anglia, said, "In recent UK energy policy announcements, I get the sense that Ukraine is seen as a reason for stepping away from the promises and impetus of the Glasgow summit.
"Climate and sustainability are central to what the World Economic Forum should be thinking about and discussing. … (Ukraine) demonstrates further-not that extra evidence is needed-the political and economic need for clean energy and reducing demand for energy, which is central to climate and sustainability."
Hu Angang, director of the Center for China Study, a think tank with links to Tsinghua University and the Chinese Academy of Sciences, said China will play a key role in "spurring the green renewable energy revolution".
"China not only takes the initiative to address climate change, but actively participates in and leads global climate governance," Hu said.
"Even with the outbreak of the Russia-Ukraine conflict, China is still on track to meet its own targets in the 14th Five-Year Plan (2021-25) to address climate change, and is actively fulfilling its commitments to the international community with more innovative efforts to lead the Fourth Industrial Revolution." ( By Angus Mcneice in London)
ABOUT CHINA MINING
CHINA MINING CONFERENCE AND EXHIBITION (CHINA MINING) IS OFFICIALLY SUPPORTED BY MINISTRY OF NATURAL RESOURCES CHINA. SINCE FIRST HELD IN 1999, CHINA MINING HAS BECOME ONE OF THE WORLD'S TOP MINING EVENTS AND ONE OF THE WORLD'S LARGEST MINING EXPLORATION, DEVELOPMENT AND TRADING PLATFORMS, COVERING ALL ASPECTS OF THE WHOLE MINING INDUSTRY CHAIN, INCLUDING SURVEY AND EVALUATION, EXPLORATION AND MINING, TECHNIQUES AND EQUIPMENT, INVESTMENT AND FINANCE, TRADE AND SERVICES, ETC., PLAYING AN ACTIVE PROMOTION ROLE IN CREATING EXCHANGE OPPORTUNITIES AND ENHANCING MUTUAL COOPERATION BETWEEN DOMESTIC AND FOREIGN MINING ENTERPRISES.
With the theme of "Multilateral cooperation—for development and prosperity of post pandemic era", China Mining Conference and Exhibition 2021 (CHINA MINING 2021) was held in Tianjin China on October 21-23, 2021. For more information about CHINA MINING, please visit: www.chinaminingtj.org/en/.