CAPE TOWN - South African President Cyril Ramaphosa on Tuesday said the country, like all developing economies, has to be given the necessary developmental space as it takes an energy transition amid energy insecurity.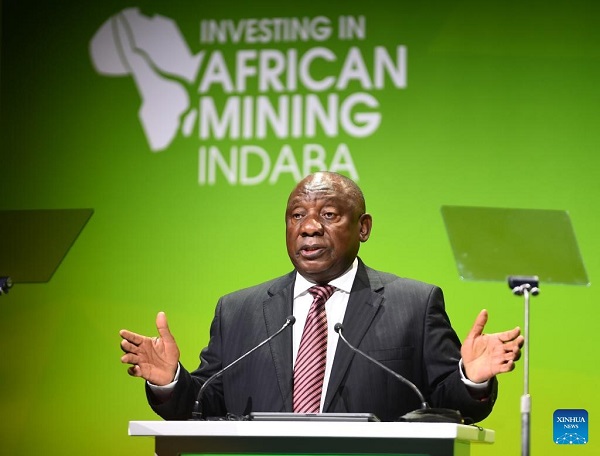 South African President Cyril Ramaphosa delivers a speech during Investing in African Mining Indaba in Cape Town, South Africa, on May 10, 2022. [Photo/Xinhua]
As South Africa is exploring opportunities of the global energy transition and moving to future strategic metals such as copper, nickel, cobalt, and rare earths, as well as eyeing on platinum group metals and hydrogen economy, it must continue to expand the production of some of the minerals that have been the "mainstay" of its mining industry, which still have much demand, Ramaphosa told Investing in African Mining Indaba taking place in Cape Town from Monday to Thursday.
It is critical that the country's efforts for a low-carbon future are both realistic and sustainable, he said, adding that African countries "need to be able to explore and extract oil and gas in an environmentally-responsible and sustainable manner", as they are important for energy security, social and economic development and reducing energy poverty.
"It is important that as we undertake a just energy transition, we adhere to the principle contained in the UN Framework Convention on Climate Change of common, but differentiated responsibilities and respective capabilities," he said, noting the importance of improving working and living conditions of mineworkers and mining communities.
South Africa's mining industry registered a growth of 11.8 percent in 2021, the highest across all industries, and recovered production to almost pre-COVID levels last year, official figures showed.
Investing in African Mining Indaba, which was said to be the largest African mining investment event, attracted thousands of attendees from governments, mining groups and relevant players.
ABOUT CHINA MINING
CHINA MINING CONFERENCE AND EXHIBITION (CHINA MINING) IS OFFICIALLY SUPPORTED BY MINISTRY OF NATURAL RESOURCES CHINA. SINCE FIRST HELD IN 1999, CHINA MINING HAS BECOME ONE OF THE WORLD'S TOP MINING EVENTS AND ONE OF THE WORLD'S LARGEST MINING EXPLORATION, DEVELOPMENT AND TRADING PLATFORMS, COVERING ALL ASPECTS OF THE WHOLE MINING INDUSTRY CHAIN, INCLUDING SURVEY AND EVALUATION, EXPLORATION AND MINING, TECHNIQUES AND EQUIPMENT, INVESTMENT AND FINANCE, TRADE AND SERVICES, ETC., PLAYING AN ACTIVE PROMOTION ROLE IN CREATING EXCHANGE OPPORTUNITIES AND ENHANCING MUTUAL COOPERATION BETWEEN DOMESTIC AND FOREIGN MINING ENTERPRISES.
With the theme of "Multilateral cooperation—for development and prosperity of post pandemic era", China Mining Conference and Exhibition 2021 (CHINA MINING 2021) was held in Tianjin China on October 21-23, 2021. For more information about CHINA MINING, please visit: www.chinaminingtj.org/en/.