Reduced demand from greener China will hit Australia, Indonesia, study says
Coal miners and logistics operators in Australia and Indonesia could see their export boom ending in the coming years as China,
the world's biggest market for coal, cuts its intake in order to meet decarbonization goals and reduce reliance on imports, according to a study.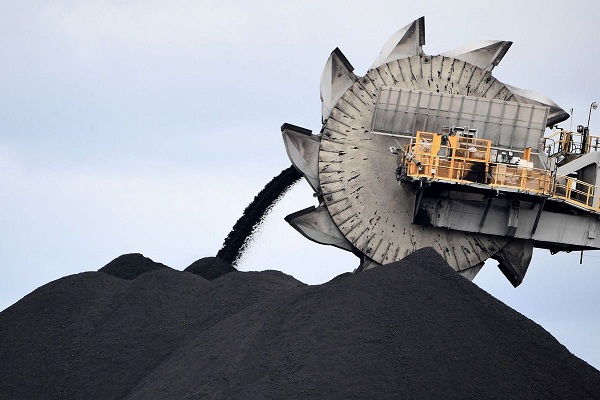 This picture taken on November 5, 2021 shows a bucket-wheel dumping soil and sand removed from another area of the mine in Newcastle, the world's largest coal exporting port. [Photo/Agencies]
In a research paper, economists from the Australian National University in Canberra forecast that China's demand for coal imports will drop significantly by 2025 as the country seeks to cut emissions and rely more on domestic supply to bolster energy security.
China, the largest importer of coal for power generation and steelmaking, has announced a 2060 net-zero emission target and aims to peak carbon emissions by 2030, "which will inevitably reduce its consumption of coal", the experts noted.
China is also building more transport infrastructure to get coal from domestic mines to its steel and power plants, to reduce dependency on coal imports.
These two factors are expected to reduce China's imports of thermal coal, mostly from Indonesia and Australia, from 185 megatons in 2019 to between 95 and 130 MT by 2025, according to the researchers.
They said overseas imports of coking coal, mostly from Australia, are expected to fall from 34 MT in 2019 to between 23 and 25 MT by 2025.
"Chinese coal consumption affects seaborne imports much more strongly than domestic supply," the researchers said in a paper titled "China's decarbonization and energy security plans will reduce seaborne coal imports", published in the April 20 edition of the peer-reviewed scientific journal Joule.
"Recent expansions of rail and port capacities, which reduce the costs of getting domestic coal to southern coastal provinces, will further reduce the demand for seaborne thermal coal and amplify the effect of decarbonization on coal imports," the study said.
Jorrit Gosens, an energy economist with the ANU's Crawford School of Public Policy and lead author of the study, said the modeling shows major coal exporters like Australia would feel the biggest impact from China's moves.
"Our findings are clear: Beijing's plans for rapid decarbonization and energy security signal the end for Australia's current coal export boon," Gosens said in a statement.
"And this isn't going to happen far off into the future; it is imminent. Our modeling predicts Chinese demand for Australian thermal coal will fall to between 30 and 40 megatons in 2025, down from about 50 megatons in 2019.
"Australia's coking coal exports to China are expected to fall to between 20 and 22 megatons, down from close to 30 megatons in 2019."
According to the researchers, in normal years about a quarter of both Australia's thermal and coking coal exports are destined for China.
Key issue
Gosens warned that Australian businesses and political leaders can no longer rely on an increase in demand for Australian coal.
With coal a key issue in the Australian federal election on May 21, Gosens told Guardian Australia that while Prime Minister Scott Morrison and his challenger, Labor Party leader Anthony Albanese, were telling voters that Australia's coal exports have decades to run, research suggests that the future is likely to be a lot less promising.
Study co-author Frank Jotzo, a climate change economist who is also with the ANU's Crawford School of Public Policy, said the changes would have long-lasting impacts on the Australian economy as well as on political debates about climate change.
"Our findings illustrate how energy security concerns, a fracturing global security and trade landscape, combined with climate action are putting the squeeze on coal-not in the distant future but imminently," the professor said. "Coal will be on the way down. We need to foster alternative economic futures." ( By Karl Wilson in Sydney)
ABOUT CHINA MINING
CHINA MINING CONFERENCE AND EXHIBITION (CHINA MINING) IS OFFICIALLY SUPPORTED BY MINISTRY OF NATURAL RESOURCES CHINA. SINCE FIRST HELD IN 1999, CHINA MINING HAS BECOME ONE OF THE WORLD'S TOP MINING EVENTS AND ONE OF THE WORLD'S LARGEST MINING EXPLORATION, DEVELOPMENT AND TRADING PLATFORMS, COVERING ALL ASPECTS OF THE WHOLE MINING INDUSTRY CHAIN, INCLUDING SURVEY AND EVALUATION, EXPLORATION AND MINING, TECHNIQUES AND EQUIPMENT, INVESTMENT AND FINANCE, TRADE AND SERVICES, ETC., PLAYING AN ACTIVE PROMOTION ROLE IN CREATING EXCHANGE OPPORTUNITIES AND ENHANCING MUTUAL COOPERATION BETWEEN DOMESTIC AND FOREIGN MINING ENTERPRISES.
With the theme of "Multilateral cooperation—for development and prosperity of post pandemic era", China Mining Conference and Exhibition 2021 (CHINA MINING 2021) was held in Tianjin China on October 21-23, 2021. For more information about CHINA MINING, please visit: www.chinaminingtj.org/en/.