TIANJIN — The 23rd China Mining Conference and Exhibition (CHINA MINING 2021) opened in North China's Tianjin municipality on Oct 21, attracting 230 exhibitors and visitors from 36 countries and regions. The event is guided by the Ministry of Natural Resources and Tianjin Municipal People's Government,
and hosted by China Mining Association. Affected by the epidemic of COVID-19, this session continued to be held in a combination of "online + offline", and on the basis of the previous cloud platform, offline entities will be resumed to hold conference and exhibition. The main activities include the opening ceremony, keynote session, breakout sessions, international mining exhibition, mining exchange shows, etc.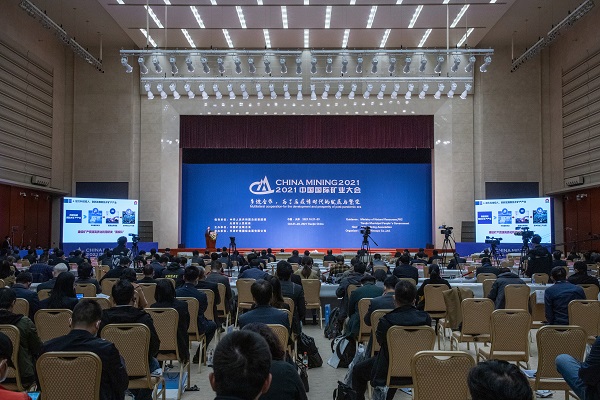 After the opening ceremony, the Hon. Mr. Zhong Ziran, director-general of China Geological Survey, presided over the theme forum. 4 Guests delivered speeches on promoting high-quality development of mining industry and jointly promoting the prosperity and development of global mining industry.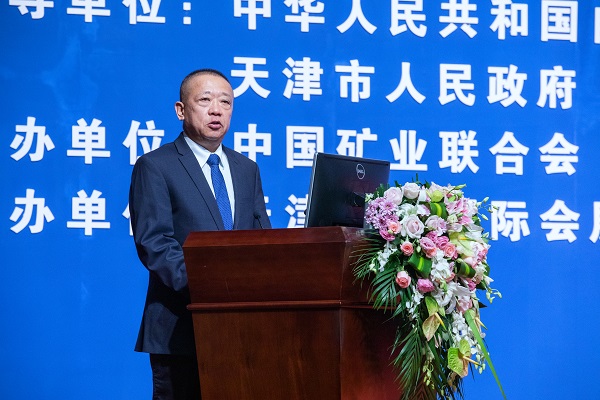 Wang Jionghui, Deputy General Manager, China Minmetals Corporation Limited: Face the future, shoulder the mission and jointly promote the prosperity and development of global mining industry.
Wang Jionghui pointed out that the development of global mining industry is facing a new situation, showing three remarkable characteristics. First, in the post epidemic era, the supply and demand and liquidity of global mineral products have been adjusted, and the prices of mineral products have risen sharply. Second, the financial attribute has been strengthened, and countries have implemented active fiscal stimulus policies to promote the rise of mineral product prices. Third, clean energy has developed rapidly, and the structure of mineral supply and demand has been significantly adjusted."
In the face of changes, how do mining companies deal with mining cycle fluctuations? How to improve the ability of cross cycle adjustment on the basis of respecting mining laws? Wang jionghui believed that maintaining strategic concentration, realizing connotative development and acquiring high-quality resources are the eternal pursuit of mining companies. At the same time, improve the ability of scientific research and development and data application, and improve the comprehensive utilization efficiency of mines; and strengthen the layout of new technology for mineral resources and industries.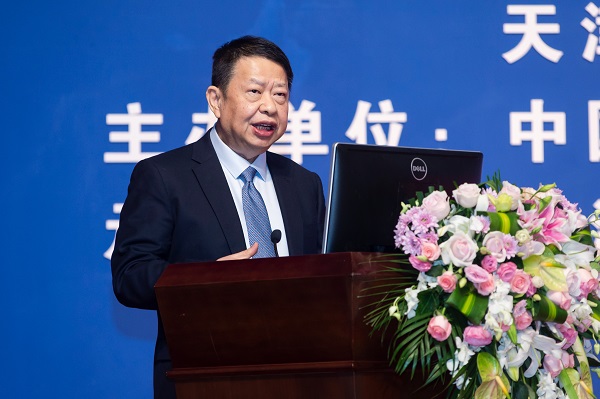 Chen Jinghe, Chairman, Zijin Mining Group Co., Ltd.: Identify gaps, pursue global cooperation, and guarantee supply—Chinese mining companies: building global competitiveness.
Chen Jinghe said that the shortage of mineral supply will seriously affect the global economic security, and mineral resources are the most important material basis of industrial society. "China needs mining enterprises with global competitiveness." Chen Jinghe believes that "due to the extremely uneven distribution of mineral resources, the world's best mineral resources are basically controlled by Western companies. As a latecomer in the global mining market, Chinese mining enterprises must have" unique skills "to catch up."
How to become a globally competitive mining enterprise? Chen Jinghe said that, first of all, to control mineral resources globally, it should match its market position; secondly, it is a basic requirement to manage the operation according to international rules, and develop the ability to deal with risks at the same time; thirdly, we should solve the shortage of global talents and make up for the lack of international experience; fourth is to apply the innovation ability and technology of Chinese enterprises and combine the current information, automation and intelligent technologies to form new technological advantages and achieve catch-up and overtaking; fifth, we should integrate the China's excellent culture with the reality of overseas countries and create a path of globalization with Chinese characteristics.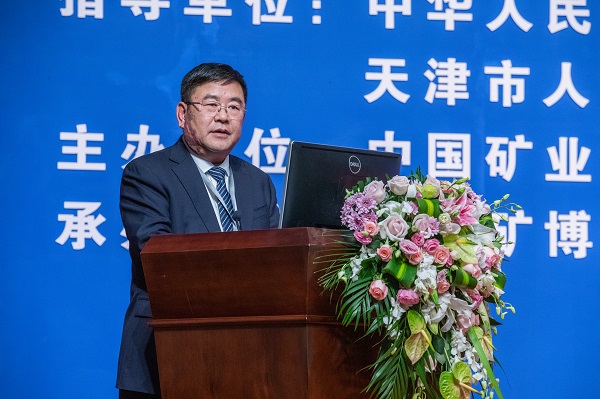 Zhang Yongli, Chairman, Western Mining Group Co., Ltd.: Taking the green and low-carbon cycle as the development direction, unswervingly promote the high-quality development of the mining industry.
Zhang Yongli pointed out that as the only one of China's top 500 enterprises in Qinghai province, Western Mining focuses on the green cycle and has made great efforts to explore the efficient development of the three major resources of "mine, salt lake and ecology", vigorously promotes the optimization, transformation and upgrading of industrial structure, and walks out of a harmonious and win-win development path of enterprise development and ecological protection.
"After years of green development practice, we deeply realize that green, low-carbon and circular development is the fundamental premise for the high-quality development of mining enterprises. Only by putting the requirements of green low-carbon cycle through the whole process and all aspects of production and operation and effectively changing the mode of mining development, can we achieve higher quality, more efficient, fairer, more sustainable and safer development." Zhang Yongli said.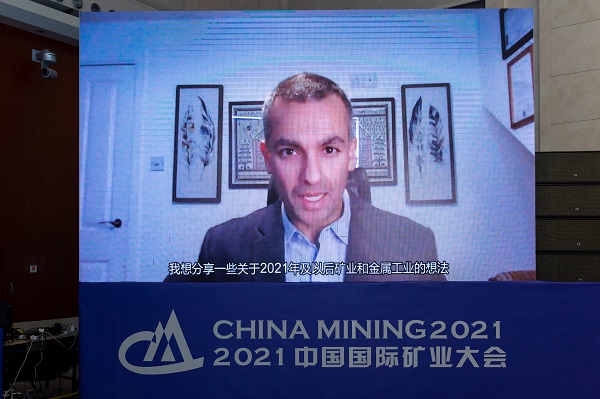 Rohitesh Dhawan, President and CEO, International Council on Mining and Metals (ICMM): Shaping the key sustainable development concept of mining and metal industry.
Speaking online, Rohitesh Dhawan said, "Now, in countries where economic development depends heavily on mineral resources, I firmly believe that the operation of mining and metal companies has the potential to greatly accelerate development and achieve sustainable development goals. We have evidence that rapid development is possible when conditions are perfect and government and industry work closely together."
"We also see that well-governed countries tend to grow faster than poor-governed ones. It tells us that the presence of mining and metals can bring resource dividends, not 'curse'." Rohitesh Dhawan said.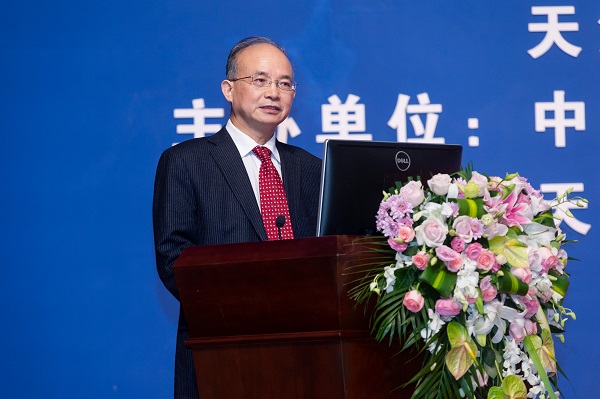 The Hon. Zhong Ziran, Director-General of China Geological Survey (CGS), presided over the theme forum of CHINA MINING 2021.
Zhong said that the participants discussed and shared the new pattern of high-quality mining development in the post epidemic era around the aspects of mining safety development, green development, innovative development and integrated development, and deeply explained the basic connotation of "green, safe, harmonious, intelligent and efficient" of high-quality mining development. He advocated that countries should further deepen cooperation in the field of resources, realize complementary advantages, shared results, and achieve mutual benefit and win-win results, so as to jointly promote the development and prosperity of global mining industry.
ABOUT CHINA MINING
CHINA MINING CONFERENCE AND EXHIBITION (CHINA MINING) IS OFFICIALLY SUPPORTED BY MINISTRY OF NATURAL RESOURCES CHINA. SINCE FIRST HELD IN 1999, CHINA MINING HAS BECOME ONE OF THE WORLD'S TOP MINING EVENTS AND ONE OF THE WORLD'S LARGEST MINING EXPLORATION, DEVELOPMENT AND TRADING PLATFORMS, COVERING ALL ASPECTS OF THE WHOLE MINING INDUSTRY CHAIN, INCLUDING SURVEY AND EVALUATION, EXPLORATION AND MINING, TECHNIQUES AND EQUIPMENT, INVESTMENT AND FINANCE, TRADE AND SERVICES, ETC., PLAYING AN ACTIVE PROMOTION ROLE IN CREATING EXCHANGE OPPORTUNITIES AND ENHANCING MUTUAL COOPERATION BETWEEN DOMESTIC AND FOREIGN MINING ENTERPRISES.
With the theme of "Multilateral cooperation—for development and prosperity of post pandemic era", China Mining Conference and Exhibition 2021 (CHINA MINING 2021) was held in Tianjin China on October 21-23, 2021. For more information about CHINA MINING, please visit: www.chinaminingtj.org/en/.