BEIJING -- China has made solid efforts to ensure its energy supply and expand its production capacity, authorities said on Wednesday.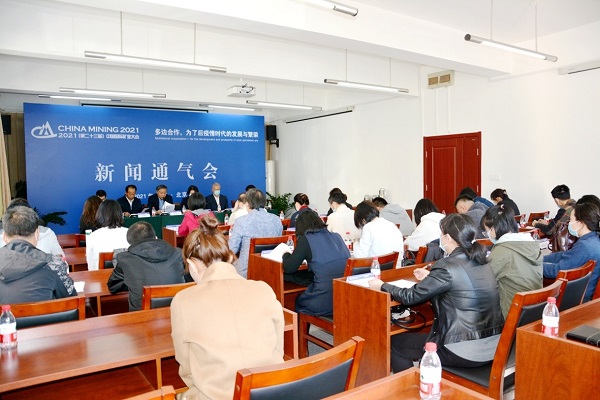 On October 12, the press briefing of China Mining Conference and Exhibition 2021 held in Beijing.(Photo from chinamining.org.cn)
"Energy supply can be guaranteed this winter and next spring," said Zhao Chenxin, secretary-general of the National Development and Reform Commission, at a press conference.
Citing the important role that coal plays in ensuring national energy security, Zhao said that coal mines with the potential to increase production in Shanxi, Inner Mongolia, Shaanxi and other relevant regions have been promoted to release their advanced production capacities as soon as possible, and under the precondition that workplace safety is ensured.
"We will make sure that the goals of peaking carbon emissions and achieving carbon neutrality are achieved as scheduled while ensuring the domestic energy supply," Zhao said.
China's recent daily output of coal has reached a stable level at over 11.2 million tonnes, an increase of 800,000 tonnes compared with the output before the National Day holiday and its highest output since February this year, said Yu Bing, deputy head of the National Energy Administration.
As winter approaches, the country will see a further increase in demand for electricity, said an official with the State Grid, promising efforts to ensure the safety of the power grid and residential electricity consumption.
In response to the recent sharp rise in international gas prices, various measures will be taken to ensure the demand for heating gas in northern China is met, said Zhao.
ABOUT CHINA MINING
CHINA MINING CONFERENCE AND EXHIBITION (CHINA MINING) IS OFFICIALLY SUPPORTED BY MINISTRY OF NATURAL RESOURCES CHINA. SINCE FIRST HELD IN 1999, CHINA MINING HAS BECOME ONE OF THE WORLD'S TOP MINING EVENTS AND ONE OF THE WORLD'S LARGEST MINING EXPLORATION, DEVELOPMENT AND TRADING PLATFORMS, COVERING ALL ASPECTS OF THE WHOLE MINING INDUSTRY CHAIN, INCLUDING SURVEY AND EVALUATION, EXPLORATION AND MINING, TECHNIQUES AND EQUIPMENT, INVESTMENT AND FINANCE, TRADE AND SERVICES, ETC., PLAYING AN ACTIVE PROMOTION ROLE IN CREATING EXCHANGE OPPORTUNITIES AND ENHANCING MUTUAL COOPERATION BETWEEN DOMESTIC AND FOREIGN MINING ENTERPRISES.
CHINA MINING CONFERENCE AND EXHIBITION 2021 WILL BE HELD IN TIANJIN CHINA ON OCTOBER 21-23, 2021. WE INVITE YOU TO JOIN THE EVENT AND TO CELEBRATE THE 23RD ANNIVERSARY OF CHINA MINING WITH US. FOR MORE INFORMATION ABOUT CHINA MINING, PLEASE VISIT: WWW.CHINAMININGTJ.ORG.