China's decarbonization drive prompts strategic repositioning of companies
China's oil giants are planning to ramp up natural gas production and use more green, low-carbon methods to reach carbon neutrality, after their profits fell last year due to the COVID-19 pandemic and plummeting international oil prices.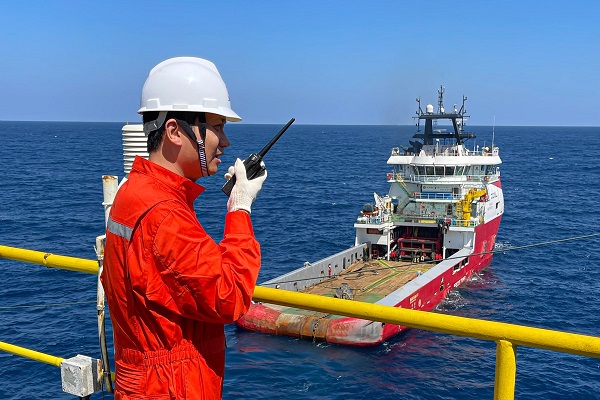 A Sinopec employee works at an offshore drilling platform in the South China Sea in February. [Photo/Xinhua]
CNOOC Ltd, the listed arm of China National Offshore Oil Corp, one of the country's three major oil and gas companies, plans to continuously increase the supply of clean energy and promote the development and construction of key natural gas projects, responding to the general trend of energy transition. In addition to its gas reserves and production, which hit a record last year, the company will also step up new energy business with a focus on offshore wind power, it said.
China Petrochemical Corp, or Sinopec, expects to spend 66.8 billion yuan ($10.18 billion) on upstream exploration focusing on shale gas development and construction of liquefied natural gas terminals in coastal areas, up from 56.4 billion yuan last year. The company has also pledged to achieve carbon neutrality 10 years ahead of the country's goal.
PetroChina Co Ltd, the listed unit of China National Petroleum Corp, the country's largest oil and gas producer by annual output, said its marketable natural gas output stood at 113 billion cubic meters last year, up 9.9 percent on a yearly basis. The share of natural gas output rose to 47.2 percent of the total, which further enhanced the oil and gas output mix.
All the companies reported lower profits last year, as the coronavirus outbreak dented fuel demand. PetroChina posted revenue of 1.93 trillion yuan, while the net profit attributable to owners of the company was 19 billion yuan. CNOOC Ltd said its revenue from oil and gas sales stood at 139.6 billion yuan, while net profit was 24.96 billion yuan. Sinopec said net profit fell by 42.9 percent to 32.92 billion yuan last year, the lowest since 2015, as the pandemic-related monthslong lockdowns crimped fuel demand and consumption.
Industry experts expect oil majors to focus more on clean fuels like natural gas as oil demand is set to fall due to the country's decarbonization drive.
Li Ziyue, an analyst with BloombergNEF, said although the Petro-China and CNOOC saw a 60 percent drop in annual profit after the pandemic-induced demand and price crash, they are still committed to enhancing production, especially natural gas output this year, given that energy security is the top priority.
"PetroChina is set to become the biggest spending driller in the world with 239 billion yuan in annual capital expenditure, exceeding all global peers. CNOOC also envisions a massive boost in spending and production to 90 billion yuan to 100 billion yuan," she said.
"Both companies made major strides in natural gas production last year, indicating their efforts to achieve lower emissions via green transformation."
By 2025, PetroChina plans to increase its proportion of natural gas production to 55 percent and CNOOC to 30 percent.
Apart from fossil fuels, China's oil giants are also investing in green energy to help the country decarbonize and achieve carbon neutrality. PetroChina plans to invest in wind, solar, geothermal and hydrogen, while CNOOC will expand its offshore wind power business.
With China setting a goal of being carbon neutral by 2060, Chinese oil companies are accelerating their strategic repositioning toward low-carbon business, said Tang Sisi, an analyst at research firm BloombergNEF. Renewable energy is a common theme, but the focus announced by Sinopec, CNPC and CNOOC varies. Offshore driller CNOOC plans to invest more in offshore wind, while Sinopec is focusing on solar and hydrogen production, she said.
CNOOC Ltd said that its oil and gas reserves and production hit record highs in 2020, with proven reserves touching a record 5.37 billion barrels of oil equivalent and net oil and gas production reaching 528.2 million BOE, laying a solid foundation for future production growth.
Its costs also dropped to a 10-year low, with all-in costs falling to $26.34 per BOE, down 11.6 percent year-on-year and operating cost to $6.90 per BOE, down 6.7 percent year-on-year, further consolidating the cost competitiveness of the company.
PetroChina said the company will seize the opportunities for low-carbon transformation and development in the energy sector, actively lay out a low-carbon business model to foster clean production, endeavor to achieve "carbon emissions peak" by around 2025 and "near-zero" emissions by around 2050, thus achieving the global objective of "carbon emissions peak" and "carbon neutrality".
Sinopec plans to increase capital spending by 23.8 percent to 167.2 billion yuan this year following a recovery in oil prices and energy demand as the COVID-19 pandemic has been brought under control. The company's crude oil throughput last year fell 4.7 percent from a year earlier to 236.91 million tons, with gasoline and diesel output down 7.7 percent and 4.3 percent, respectively, while kerosene production plunged 34.6 percent. Its crude oil production was 280.22 million barrels in 2020, down 1.4 percent year-on-year, while natural gas output was 30.3 billion cubic meters, up 2.3 percent from 2019.(By Zheng Xin)
About CHINA MINING
China Mining Conference and Exhibition (CHINA MINING) is officially supported by Ministry of Natural Resources China. Since first held in 1999, CHINA MINING has become one of the world's top mining events and one of the world's largest mining exploration, development and trading platforms, covering all aspects of the whole mining industry chain, including survey and evaluation, exploration and mining, techniques and equipment, investment and finance, trade and services, etc., playing an active promotion role in creating exchange opportunities and enhancing mutual cooperation between domestic and foreign mining enterprises.
China Mining Conference and Exhibition 2020 was held IN Tianjin China on October 22-24, 2020. For more information about CHINA MINING, please visit: www.chinaminingtj.org.