Foreign media have responded positively to China's new economic growth target of over 6 percent for 2021.
The above 6 percent growth target marks a return to strong growth after the COVID-19 pandemic impacted the world's second largest economy, BBC said.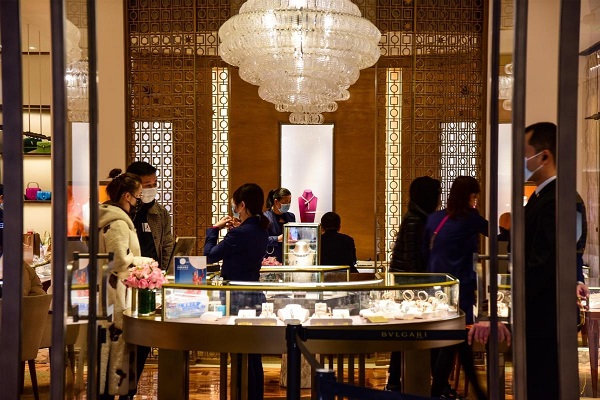 Customers shop at the SKP Beijing department store. [Photo by Wang Shiqi/for China Daily]
BBC quoted Bruce Pang from investment bank China Renaissance as saying that the more flexible target leaves some room for structural reform and a transition to a more mature economy.
"We think it likely the target will be achieved, indicating that authorities are shifting focus to the quality of growth instead of speed," Pang said.
The over 6 percent is manageable with high quality growth said Bloomberg, citing Michael Pettis, a fellow at the Carnegie-Tsinghua Center in Beijing.
China set the economic growth target of more than 6 percent for 2021, which is less than the 7 percent to 8 percent forecast by international organizations. ABC news cited Zhu Chaoping of JP Morgan Asset Management as saying "China is shifting focus from quantity to quality of economic growth, and may allocate resources to environmental protection and other initiatives to boost China's long-term growth potential ".
"China's economic growth can easily surpass 6 percent in 2021, from the low base of 2020. A flexible target aims to give greater room for policymaking," Dr Yue Su, principal economist at The Economist Intelligence Unit, was quoted as saying by The Straits Times.
The modest growth target is a sign that China may be looking beyond the immediate bump it will see in its pandemic recovery and charting a more stable economic path forward, business magazine Fortune said.
The country is targeting over 6 percent growth for 2021, reflecting the government's confidence in the wake of its successful containment of the COVID-19 pandemic in the world's second-largest economy, said the Financial Times.
China setting a GDP growth target of more than 6 percent in 2021 shows that Chinese enterprises have a strong ability to adapt to changing situations and have sustainable development, as well as that the Chinese government has the confidence, determination and strength to achieve the growth target, said Singapore's Lianhe Zaobao newspaper.
About CHINA MINING
China Mining Conference and Exhibition (CHINA MINING) is officially supported by Ministry of Natural Resources China. Since first held in 1999, CHINA MINING has become one of the world's top mining events and one of the world's largest mining exploration, development and trading platforms, covering all aspects of the whole mining industry chain, including survey and evaluation, exploration and mining, techniques and equipment, investment and finance, trade and services, etc., playing an active promotion role in creating exchange opportunities and enhancing mutual cooperation between domestic and foreign mining enterprises.
China Mining Conference and Exhibition 2020 was held IN Tianjin China on October 22-24, 2020. For more information about CHINA MINING, please visit: www.chinaminingtj.org.