On the afternoon of October 22, China Mining Conference and Exhibition 2020 (the 22nd session) opened in Tianjin. With the theme of "Responsibility, Innovation and Governance", this session advocates countries to strengthen exchanges and cooperation in fulfilling corporate social responsibility, innovating development mode and industry self-discipline, so as to promote sustainable development of mining industry image remodeling.
Under the guidance of the Ministry of Natural Resources China and Tianjin Municipal People's government, and hosted by China Mining Association, this session will be held from October 22 to 24 with the combination of "offline + online". The main activities include cloud tour, enterprise video exhibition, theme forum, symposium, country promotion, projects promotion and online exhibition. Companies and participants from 35 countries and regions attended the event with 309 exhibitors.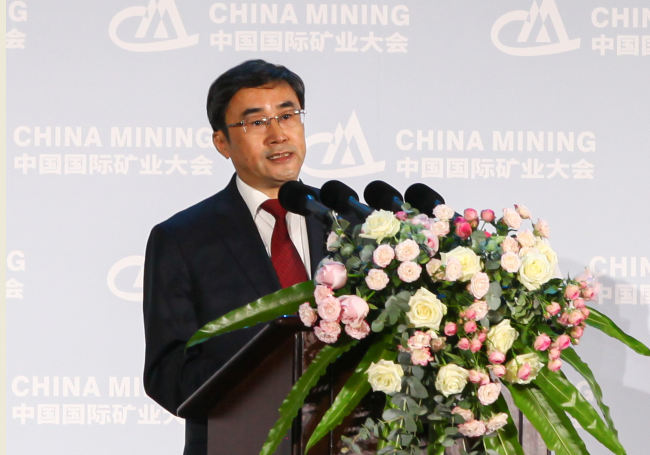 The Hon. Li Hongzhong, Secretary of the CPC Tianjin municipal committee; the Hon. Ling Yueming, Vice Minister of the Ministry of Natural Resources China; H.E. Luis Quesada, Ambassador of Peru to China; the Hon.Liao Guoxun, Mayor of Tianjin; the Hon. Zhong Ziran, Director-General of China Geological Survey, kicked off the opening of the event. Mr. Peng Qiming, Chairman of the Organizing Committee of China Mining Conference and Exhibition and President of China Mining Association, presided over the opening ceremony. The envoys of Peru, Brazil, Chile, Guinea, Madagascar, Argentina, South Africa and Tanzania attended the event.
Ling Yueming pointed out in his speech that the global pandemic of COVID-19 epidemic and the world's unprecedented changes in a century have affected each other. The tide of anti-globalization in the epidemic era has slowed down the recovery of the mining industry, and the global mining market is facing unprecedented shocks and challenges. The demand for bulk minerals has shrunk. But in the long run, the status of mining industry as a basic industry has not been shaken, and the basic driving force for mining development is still strong. All countries in the world need to unite to overcome difficulties, open cooperation and seek common development, so as to make the global mining governance system conform to the changes of world politics and economy, meet the practical needs of coping with global challenges, and conform to the historical trend of peaceful development and win-win cooperation. We should continue to expand the areas of mining cooperation, jointly improve and improve the global resource system, and build a global mining community with a shared future. We should speed up the transformation of traditional mining production mode, promote the "green recovery" of global mining industry, and build a beautiful and harmonious earth.
On behalf of the Ministry of Natural Resources China, Ling Yueming put forward three proposals: first, adhere to the improvement of people's livelihood and fulfill social responsibilities. All countries in the world should pay more attention to the important role of mining industry in regional economic development, actively promote the resumption of work and production, develop economy, increase employment, eliminate poverty, improve people's livelihood, build a sharing mechanism between enterprises and the public, and promote the development of mining enterprises, the benefit of people in mining areas and the harmonious relationship between mining and land. Second, adhere to scientific and technological innovation to stimulate the kinetic energy of mining industry. New technologies such as 5G communication, big data, artificial intelligence, Internet of things, cloud computing and other new technologies are integrated with mining industry, creating new momentum for global mining development. China is willing to strengthen the sharing of mining science and technology policies and information with other countries in the world, promote international scientific and technological cooperation and management experience exchange in the mining field, jointly cope with risks and challenges, and seize future development opportunities. Third, adhere to multilateralism and improve global governance. Countries in the world have different resource endowments and mining economy is closely dependent. It is necessary to further strengthen cooperation, open and win-win, oppose any form of trade protectionism, relax access conditions, protect property rights fairly, promote the facilitation of mining investment, and build a global mining industry chain with complementary advantages. It is advocated that the establishment of mining capacity cooperation alliances with extensive participation by countries along the "Belt and Road". We will further develop mining trade and investment cooperation and interconnection, and establish an open, transparent, inclusive and non-discriminatory industry development ecosystem, promote the liberalization of mineral trade and ensure the stability of the mineral product market.
Liao Guoxun delivered a welcome speech on behalf of Tianjin. Luis Quesada delivered a speech on behalf of supporters of the event. After the opening ceremony, Zhong Ziran presided over the theme forum, and six guests made speeches on overseas mining investment, international cooperation in mining industry and capital market. (Reporters/Wang Shaoyong, Qiao Siwei) (Translated by Tianjin Minexpo)
About CHINA MINING
China Mining Conference and Exhibition (CHINA MINING) is officially supported by Ministry of Natural Resources China. Since first held in 1999, CHINA MINING has become one of the world's top mining events and one of the world's largest mining exploration, development and trading platforms, covering all aspects of the whole mining industry chain, including survey and evaluation, exploration and mining, techniques and equipment, investment and finance, trade and services, etc., playing an active promotion role in creating exchange opportunities and enhancing mutual cooperation between domestic and foreign mining enterprises.
China Mining Conference and Exhibition 2020 will be held in Tianjin China on October 22-24, 2020. We invite you to join the event and to celebrate the 22nd anniversary of CHINA MINING with us. For more information about CHINA MINING, please visit: www.chinaminingtj.org