On July 10, Mr. Peng Qiming, chairman of the Organizing Committee of the China Mining Conference and Exhibition 2020 and president of the China Mining Association visited China Minmetals Corporation (China Minmetals). Jiao Jian, deputy general manager of China Minmetals, received Peng Qiming and his team and held a symposium.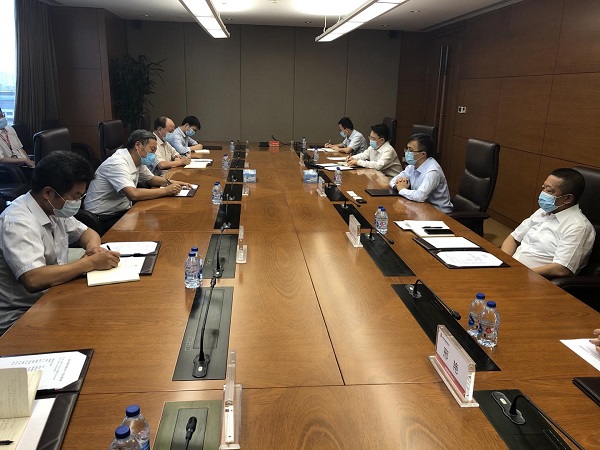 Jiao welcomed Peng Qiming's visit and briefly introduced the development of China Minmetals. After the merger and reorganization with MCC group, the company's business has been actively expanded, the work has been steadily promoted, and the annual profit has doubled. In the future, it is necessary to further strengthen the cooperation with China Mining Association and make contributions to the development of China's mining industry.
Peng congratulated China Minmetals on its outstanding achievements and especially expressed his thanks for his long-term support to the China Mining Association. China Mining Association will continue to build a platform for enterprises to help them develop. One of the main tasks in the near future is to organize relevant units to work out the development strategy of China's mining industry, clarify the status of the mining industry, and highlight the key role of mining industry in the national economy and its irreplaceable nature. Second, the annual China Mining Conference and Exhibition is under active preparation, and plans to hold it in the way of combination of online and offline, so as to further expand and strengthen the international cooperation of China's mining industry, strengthen the exchange of technology and ideas, especially make breakthroughs in scientific and technological innovation and global governance, so as to provide opportunities for Chinese mining enterprises to display and cooperate.
Jiao fully affirmed the work done by the China Mining Association for the development of China's mining industry, and expressed full support for the development and implementation of various work.
Wang jionghui, chairman of Minmetals exploration and Development Co., Ltd., and Wang Ping, vice chairman of the Organizing Committee of China Mining Conference and Exhibition and secretary general of China Mining Association, attended the meeting.
About CHINA MINING
China Mining Conference and Exhibition (CHINA MINING) is officially supported by Ministry of Natural Resources China. Since first held in 1999, CHINA MINING has become one of the world's top mining events and one of the world's largest mining exploration, development and trading platforms, covering all aspects of the whole mining industry chain, including survey and evaluation, exploration and mining, techniques and equipment, investment and finance, trade and services, etc., playing an active promotion role in creating exchange opportunities and enhancing mutual cooperation between domestic and foreign mining enterprises.
China Mining Conference and Exhibition 2020 will be held IN Tianjin China on October 22-24, 2020. We invite you to join the event and to celebrate the 22nd anniversary of CHINA MINING with us. For more information about CHINA MINING, please visit: www.chinaminingtj.org.