On July 9, Mr. Peng Qiming, chairman of the Organizing Committee of the China Mining Conference and Exhibition 2020 and president of the China Mining Association visited Aluminum Corporation of China (Chinalco). Yao Lin, chairman of the board of directors of Chinalco, expressed welcome and thanks to Peng Qiming and his team for their visit.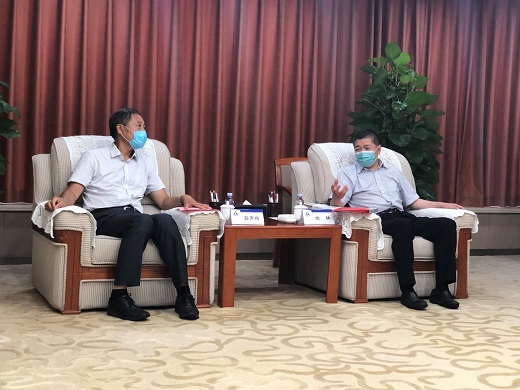 Yao briefly introduced the development of Chinalco. The corporation adheres to its responsibility orientation and builds a global leader in nonferrous metal industry, a main force in national strategic mineral resources and military material support, and a leader in industry innovation and green development. It is hoped that the China Mining Association will give support and appeal in the development of mineral resources, so as to help enterprises get better development.
Peng said that as an industry association, China Mining Association's responsibility is to serve enterprises and industries. At present, the status of mining industry is not obvious, and the status of mining industry needs to be improved. To this end, China Mining Association plans to call on relevant units to organize the preparation of China's mining development strategy, and earnestly requests Chinalco to provide support.
Peng stressed that mining development should be transformed and upgraded, realize industrial integration, and go out of a new development path.
The two sides also exchanged views on resource tax and equity fund system. Zhang Chengzhong, deputy general manager of Chinalco, and Wang Ping, vice chairman of the Organizing Committee of China Mining Conference and Exhibition and secretary general of China Mining Association, attended the meeting.
About CHINA MINING
China Mining Conference and Exhibition (CHINA MINING) is officially supported by Ministry of Natural Resources China. Since first held in 1999, CHINA MINING has become one of the world's top mining events and one of the world's largest mining exploration, development and trading platforms, covering all aspects of the whole mining industry chain, including survey and evaluation, exploration and mining, techniques and equipment, investment and finance, trade and services, etc., playing an active promotion role in creating exchange opportunities and enhancing mutual cooperation between domestic and foreign mining enterprises.
China Mining Conference and Exhibition 2020 will be held IN Tianjin China on October 22-24, 2020. We invite you to join the event and to celebrate the 22nd anniversary of CHINA MINING with us. For more information about CHINA MINING, please visit: www.chinaminingtj.org.