BEIJING - As a vital step in easing market access for foreign investors, China has announced opening up the upstream exploration of its oil and natural gas resources by scrapping joint-venture restrictions.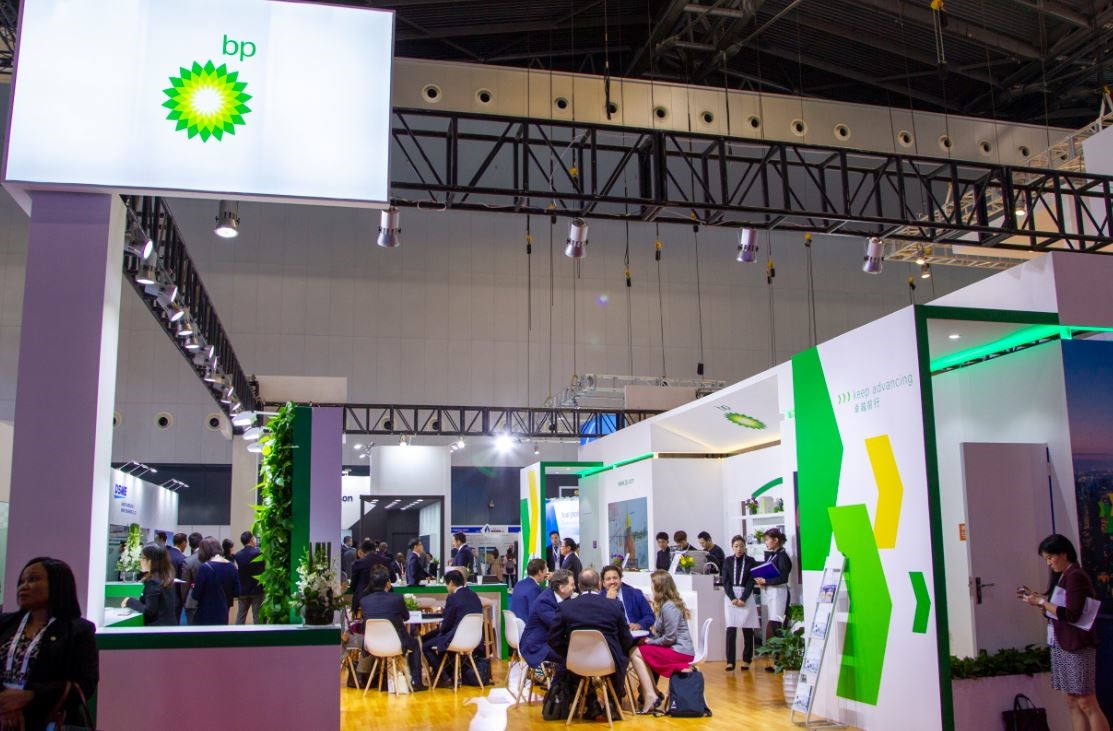 The booth of UK energy giant BP at an industrial expo in Shanghai. [Photo provided to China Daily]
Taking effect on July 30, the move aims to attract overseas participation in the field and advance the country's ongoing reform of energy systems.
Spurred by the growth in energy consumption, China has become the world's largest importer of crude oil and natural gas, with its dependency on foreign crude oil and natural gas hitting 69.8 percent and 45.3 percent, respectively, in 2018, according to China National Petroleum Corp.
In contrast, the country's crude oil output had slipped for three consecutive years by the end of last year.
Commenting on the situation, Lin Boqiang, director of the China Centre for Energy Economics Research at Xiamen University, said the measure to facilitate overseas investment in exploration will inject impetus into China's oil and gas production.
"China boasts advantages in technologies of exploring conventional oil and natural gas but lags behind some foreign counterparts in unconventional exploration," Lin said. "It is, therefore, necessary to promote international cooperation in the unconventional sphere."
The measure is highly praised by leading overseas energy companies who expect wider market access and more opportunities in China.
Yang Xiaoping, president of British Petroleum China, said the decision will boost the Chinese energy market, create a business environment with more fairness and openness and further accelerate the technological upgrading of the country's oil and natural gas exploration.
"Lifting market restrictions for the natural gas exploration will facilitate the use of clean energy in China, speeding up the country's transformation into a low-carbon development model," Yang said.
Describing the opening-up move as "inspiring", Zhang Xinsheng, executive chairman of Shell Companies in China, said the energy and petrochemical giant will enjoy more business opportunities and have more investment options in related industries with broadened market access.
Zhang added that Shell values the cooperative relationship with its Chinese partners and will continue to bring its cutting-edge technologies and professional capabilities to China.
Despite the pressure from the inflow of foreign players, Chinese energy companies are competitive enough and the two sides' high complementarity in technologies leads to cooperation, Lin said.
The opening-up of exploration is a crucial part of the revised negative lists for foreign investment market access, which allows foreign investors to run majority-share-controlling or wholly-owned businesses in more sectors.
Thanks to its continued efforts to open up wider, China attracted a record high foreign direct investment of $138.3 billion last year, bucking a global trend of FDI slide. In the first five months of this year, the country saw FDI inflows of $54.6 billion, up 3.7 percent year-on-year.
About CHINA MINING
Since first held in 1999, the scope and influence of CHINA MINING has grown rapidly year by year. As a global mining summit forum and exhibition, CHINA MINING Conference and Exhibition has become one of the world's top mining events, and one of the world's largest mining exploration, development and trading platforms, covering all aspects of the whole mining industry chain, including geological survey, exploration and development, mining rights trading, mining investment and financing, smelting and processing, mining techniques and equipment, mining services, etc. playing an active promotion role in creating exchange opportunities and enhancing mutual cooperation between domestic and foreign mining enterprises.
CHINA MINING Conference and Exhibition 2019 will be held at Tianjin Meijiang Convention Center of Tianjin China on October 9-11, 2019. We invite you to join the event and to celebrate the 21st anniversary of CHINA MINING with us. For more information about CHINA MINING, please visit: www.chinaminingtj.org.