China's energy mix has continued to evolve, with the share of total energy consumption for coal in 2018 hitting a historical low of 58 percent despite remaining the dominant fuel in China, said the BP Statistical Review 2019, which was released in Beijing on Tuesday.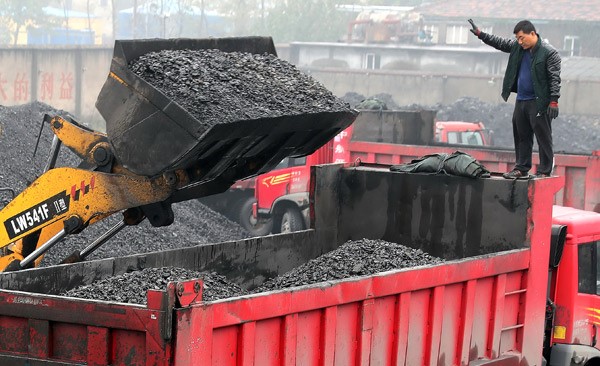 A heavy-duty lorry receives a load of coal at a yard in Huaibei, East China's Anhui province. [Photo provided to China Daily]
China's renewables consumption grew by 29 percent in 2018, accounting for 45 percent of global renewables consumption growth, figures from the 68th annual edition of BP's Statistical Review of World Energy showed.
The report said solar consumption in China grew the fastest in 2018, posting a 51 percent increase year-on-year, followed by wind, which grew 24 percent compared with the same period the previous year. Biomass and geothermal witnessed a year-on-year increase of 14 percent and hydro grew by 3.2 percent, it said.
China's nuclear power generation increased by 19 percent, above the 10-year average growth rate of 15 percent. China accounted for 74 percent of the global nuclear power increment.
Joseph Jacobelli, an energy analyst and Asia-Pacific CEO of clean energy producer Joule Power, said China has been witnessing its clean energy's share progressively increase while the share of thermal coal has declined in the past few years.
"I think it is a certainty that within the next 20 years, the majority of electricity in China will come from non-fossil fuel sources, including nuclear and natural gas," he said.
Jacobelli added: "While it is impossible for thermal coal generation to go down to zero in the short term, it will increasingly become a less important source. Technological advancements on the clean energy or storage front could even accelerate the rise in the energy mix share of solar, wind and other non-fossil fuel sources of energy."
BP chief economist Spencer Dale said no country matches the rapid shift to a greener energy mix by China, which plays a central role in the global energy system.
He said China's efforts in promoting green fuel consumption, including a more liberalized market and opening the natural gas market to third parties, will allow more competition in the industry and encourage increased consumption of clean fuel.
Accounting for 24 percent of global energy consumption and 34 percent of global energy consumption growth in 2018, China was the largest contributor to global growth for the 18th consecutive year.
Its gas consumption increased by 18 percent in 2018, accounting for 22 percent of global gas consumption net growth, according to the review.
Dale said that dramatic growth in the percentage of renewables is expected in the next two decades, while the percentage in China is expected to be higher.
Industry insiders believe China is witnessing massive progress in using more clean energy in recent years and they believe the trend can only accelerate.
China has spent more on cleaning up its energy system than the United States and the European Union combined. Last year, it shelled out $132 billion, according to Bloomberg New Energy Finance.
The country will witness annual growth of 8.5 percent till 2040, when it will account for 18 percent of power generation nationwide, compared with the current 3 percent.
Worldwide, renewables grew by 14.5 percent, nearing their record-breaking increase in 2017, but still accounted for only around a third of the increase in total power generation.
On the other hand, coal consumption and production worldwide grew for the second year in a row in 2018, following three years of decline from 2014 to 2016, with consumption up 1.4 percent year-on-year and production up 4.3 percent year-on-year.( By Zheng Xin)
About CHINA MINING
Since first held in 1999, the scope and influence of CHINA MINING has grown rapidly year by year. As a global mining summit forum and exhibition, CHINA MINING Conference and Exhibition has become one of the world's top mining events, and one of the world's largest mining exploration, development and trading platforms, covering all aspects of the whole mining industry chain, including geological survey, exploration and development, mining rights trading, mining investment and financing, smelting and processing, mining techniques and equipment, mining services, etc. playing an active promotion role in creating exchange opportunities and enhancing mutual cooperation between domestic and foreign mining enterprises.
CHINA MINING Conference and Exhibition 2019 will be held at Tianjin Meijiang Convention Center of Tianjin China on October 9-11, 2019. We invite you to join the event and to celebrate the 21st anniversary of CHINA MINING with us. For more information about CHINA MINING, please visit: www.chinaminingtj.org.