The number of Chinese companies which made it on the Fortune Global 500 reached 129, surpassing the US for the first time as the latter country had 121 companies on the list, the magazine reported on Monday.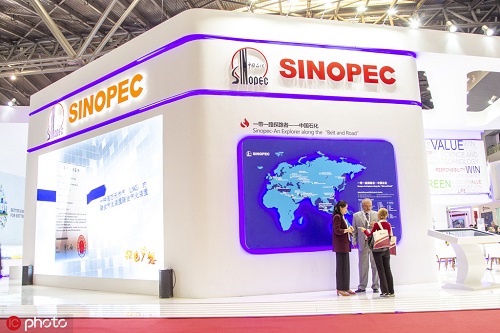 People in front of a Sinopec Group stand during a conference in Shanghai on April 1, 2019. [Photo/IC]
China's largest State-owned oil and gas company Sinopec Group climbed one spot on Fortune's Global 500 list, reaching second place due to sharp gains in both revenue and profits last year.
Behind Walmart — whose revenue was $514.41 billion — Sinopec Group saw a 26.8 percent growth in revenue to $414.65 billion last year, and profits in 2018 reached $5.85 billion, a year-on-year growth of 280.1 percent.
The strong results were driven largely by robust domestic demand for gas and chemical products, the report said.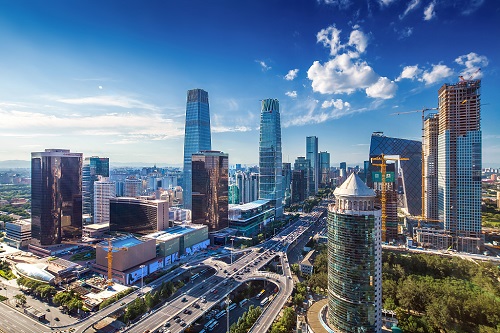 A bird view of Beijing's central business district, which is home to the headquarters of a great number of companies on the Fortune Global 500. [Photo/VCG]
Another Chinese company, China National Petroleum, grabbed the fourth spot with revenue of $392.98 billion in 2018, followed by State Grid with $387.06 billion.
With revenue of $69.85 billion, JD.com continues to lead Chinese internet companies, reaching the 139th spot on the list.
Alibaba Group Holding, whose revenue reached $56.15 billion, was the company with the fastest growth rate, jumping 118 spots to 182.
Gree Electric Appliances Inc and Xiaomi Corp were newcomers to this year's list, and 9-year old Xiaomi was the youngest company among the Global 500.
Three Chinese companies were included in the top 10 of the Fortune Global 500, and are mainly involved in natural resources.(By Yang Yang)
About CHINA MINING
Since first held in 1999, the scope and influence of CHINA MINING has grown rapidly year by year. As a global mining summit forum and exhibition, CHINA MINING Conference and Exhibition has become one of the world's top mining events, and one of the world's largest mining exploration, development and trading platforms, covering all aspects of the whole mining industry chain, including geological survey, exploration and development, mining rights trading, mining investment and financing, smelting and processing, mining techniques and equipment, mining services, etc. playing an active promotion role in creating exchange opportunities and enhancing mutual cooperation between domestic and foreign mining enterprises.
CHINA MINING Conference and Exhibition 2019 will be held at Tianjin Meijiang Convention Center of Tianjin China on October 9-11, 2019. We invite you to join the event and to celebrate the 21st anniversary of CHINA MINING with us. For more information about CHINA MINING, please visit: www.chinaminingtj.org.