Authorities to probe illegal behavior pertaining to price manipulation
Iron ore futures fell sharply on Friday, after a top official of the China Iron and Steel Association said authorities will crack down on illegal behavior related to iron ore price manipulation.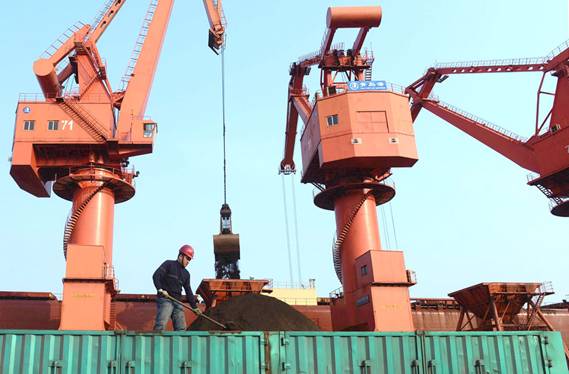 An employee helps unload imported iron ore in Qingdao Port, Shandong province. YU FANGPING/FOR CHINA DAILY
On early Friday morning, Qu Xiuli, deputy head of the CISA, said iron ore prices have formed a severe inverse relationship with steel output prices in China, and the Chinese authorities, noticing the sharp rise in iron ore prices, are investigating the cause and will strictly crack down on behaviors disturbing the market, including unjustified price increases and price manipulation.
Qu made the remarks early Friday during the 4th China Steel Derivatives International Conference held in Shanghai.
Qu stressed that the slide in steel output prices and soaring iron ore prices have continuously cut down the profitability of steel companies, making it difficult for steel companies to cope with the situation.
The distorted price relationship between iron ore and steel production is damaging the sustainability of the steel industry, she said.
The association also has assembled a special panel with executives from leading Chinese steel mills to study issues related to iron ore imports, such as the security of supplies, the pricing mechanism, and the tracking of the market.
The panel will report to the Chinese authorities about factors disturbing the normal market order of iron ore, as well as give them suggestions on how to regulate the market.
The most active iron ore future on the Dalian Commodity Exchange, for delivery in September, slumped 5.85 percent to 829.5 yuan ($120) a metric ton at closing. The lowest price during Friday's trade was 816 yuan a ton.
Previously, iron ore futures on the Dalian Commodity Exchange reached a record high in more than five years on Wednesday, as the most-active iron ore contract surged to 911.5 yuan a ton. It then closed 3.77 percent lower at 868 yuan on Thursday.
Platts Iron Ore Index also showed iron ore prices have almost doubled in the past year.
Experts said such sharp rises in iron ore prices are not well supported, although reasonable growth in iron ore prices was expected earlier, considering the increased demand from the Chinese market and shrinking global supply.
"The price of iron ore has increased more than the extent that can be supported by fundamentals, like supply and demand," said Zhu Yi, a senior metals and mining analyst with Bloomberg Intelligence.
The tight supply from overseas mines and rising demand from domestic steel mills are two of the fundamental reasons for the price jump, but profit margins of domestic steel mills are pressured currently due to high iron ore prices, she said.
Li Xinchuang, president of the China Metallurgical Industry Planning and Research Institute, said the increased output of Chinese mills, growing about 10 percent from 928 million tons of crude steel last year, indeed helps bolster iron ore price, especially when the main iron ore producers have lowered output and estimates due to mine shutdowns and weather disturbances.
"It is absolutely abnormal that iron ore has become more expensive than in 2008, when oil prices and shipment costs were much higher than now," he said.
He said the profit margin of China's steel industry will slip to less than 3 percent this year from 6.93 percent last year, mainly due to the impact of soaring iron ore prices, although imprudent output expansion from some steel mills is also a factor.
He said action should be taken to crack down on speculation, because futures are supposed to be a hedging tool helping the industry to reduce risk, not the other way around.
Steel mills should curb imprudent output expansion, and the industry should strengthen reuse and recycling of scrap steel to reduce reliance on foreign iron ores, he said.
Zhu estimates as supply will gradually increase, iron ore price increase will be limited in the second half of this year, and steel mills will then have better profit prospects.(By LIU ZHIHUA/ZHENG XIN)
About CHINA MINING
Since first held in 1999, the scope and influence of CHINA MINING has grown rapidly year by year. As a global mining summit forum and exhibition, CHINA MINING Conference and Exhibition has become one of the world's top mining events, and one of the world's largest mining exploration, development and trading platforms, covering all aspects of the whole mining industry chain, including geological survey, exploration and development, mining rights trading, mining investment and financing, smelting and processing, mining techniques and equipment, mining services, etc. playing an active promotion role in creating exchange opportunities and enhancing mutual cooperation between domestic and foreign mining enterprises.
CHINA MINING Conference and Exhibition 2019 will be held at Tianjin Meijiang Convention Center of Tianjin China on October 9-11, 2019. We invite you to join the event and to celebrate the 21st anniversary of CHINA MINING with us. For more information about CHINA MINING, please visit: www.chinaminingtj.org.