BEIJING - Net gold purchases by central banks saw a year-on-year increase of 68 percent to 145.5 tonnes in the first quarter of 2019, driving global gold demand growth, according to a report issued by the World Gold Council (WGC).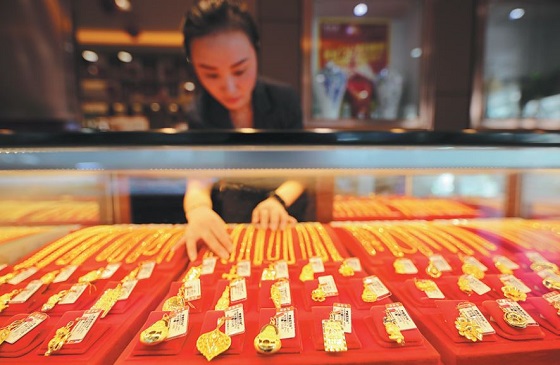 An employee arranges gold jewelry at a shop in Lianyungang, Jiangsu province. [Photo by Si Wei/for China Daily]
During the last four quarters, central banks' gold buying reached a record high of 715.7 tonnes. In Q1 of 2019, global gold demand stood at 1,053.3 tonnes, up 7 percent year-on-year, according to the report.
Economic uncertainty continued to weigh heavy on reserve managers' minds. Diversification and a desire for safe, liquid assets were the main drivers of gold buying, the WGC report said.
As of April 2019, the global official gold reserves totaled 34,023.87 tonnes, of which the eurozone (including the European Central Bank) held 10,778.5 tonnes. The central banks of the emerging market continued to maintain a steady pace to accumulate gold reserves, the report said.
About CHINA MINING
Since first held in 1999, the scope and influence of CHINA MINING has grown rapidly year by year. As a global mining summit forum and exhibition, CHINA MINING Conference and Exhibition has become one of the world's top mining events, and one of the world's largest mining exploration, development and trading platforms, covering all aspects of the whole mining industry chain, including geological survey, exploration and development, mining rights trading, mining investment and financing, smelting and processing, mining techniques and equipment, mining services, etc. playing an active promotion role in creating exchange opportunities and enhancing mutual cooperation between domestic and foreign mining enterprises.
CHINA MINING Conference and Exhibition 2019 will be held at Tianjin Meijiang Convention Center of Tianjin China on October 9-11, 2019. We invite you to join the event and to celebrate the 21st anniversary of CHINA MINING with us. For more information about CHINA MINING, please visit: www.chinaminingtj.org.