As China implements more stringent policies and regulations on the environment, the demand for high-quality iron ore will remain strong in the coming years, which provides companies like Rio Tinto an edge in the country, CEO Jean-Sebastien Jacques said.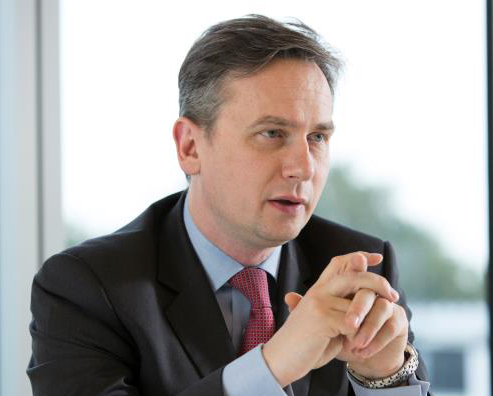 Jean-Sebastien Jacques, CEO of Rio Tinto Group Plc. [Photo provided to chinadaily.com.cn]
"The dividend of high-grade ore in China will continue to be very strong, and we believe Rio Tinto is very well-placed," said Jacques during an interview with China Daily.
"In the context of the new environmental policy introduced by China, even if the consumption of steel was to fall, the need for high-quality iron ore will increase in order to improve environmental footprint, and that's what we have experienced already in the last few years."
The company's supply of high-quality iron ore is consistent with the environmental policy of China and with environmental controls, said Jacques, adding he was "absolutely not concerned" about the company's ability to continue providing high-quality products to customers in China in a profitable way.
An analyst said using the higher-quality ore will help increase the scrap ratio, which is exactly what the steelmakers have been able to do and have been doing for last few years on the back of the environmental policy, which also in turn has led to shutting down the inefficient furnaces and closing down some of the small blast furnaces.
Zhu Yi, a Hong Kong-based senior analyst of metals and mining at Bloomberg Intelligence, said the rising usage of high-quality iron ore driven by government's strict implementation of environmental protection standards, especially in China, will benefit suppliers such as Rio Tinto.
Besides, the price premium of high-quality iron ore over low-quality ores will generate higher margins for sellers of premium products, she said.
Despite the downward pressure, Jacques said the company's plans in the country will not be affected.
"The polices in relation to the environment are not expected to change, and therefore our strategy-providing high-quality iron ore, high-quality copper and high-quality bauxite for China-will not be impacted by this at all," he said.
In response of China's peak consumption of steel, Jacques said the full impact of Belt and Road Initiative should be also considered, as investment on infrastructure outside of China could have a positive impact if the steel, or the copper or whatever the product, will be produced in China or shipped out of China.
Since 1973, the company has supplied China with more than 2.5 billion metric tons of iron ore, equivalent to 15,000 Beijing National Stadiums in terms of steel, he said.
In addition to selling raw materials to China, Rio Tinto is also buying products from China, with products worth around $10 billion from the procurement standpoint from China in the past 10 years, and around $1.3 billion last year.(By Zheng Xin)
About CHINA MINING
Since first held in 1999, the scope and influence of CHINA MINING has grown rapidly year by year. As a global mining summit forum and exhibition, CHINA MINING Congress and Expo has become one of the world's top mining events, and one of the world's largest mining exploration, development and trading platforms, covering all aspects of the whole mining industry chain, including geological survey, exploration and development, mining rights trading, mining investment and financing, smelting and processing, mining techniques and equipment, mining services, etc. playing an active promotion role in creating exchange opportunities and enhancing mutual cooperation between domestic and foreign mining enterprises.
CHINA MINING Conference and Exhibition 2018 Was held at Meijiang Convention and Exhibition Center in Tianjin in October 18-20, 2018. We invite you to join the event and to celebrate the 20th anniversary of CHINA MINING with us. For more information about CHINA MINING 2018, please visit: www.chinaminingtj.org.