Eleven people involved in a deadly mine accident in Northern China's Inner Mongolia autonomous region have been arrested, local prosecutors said Monday.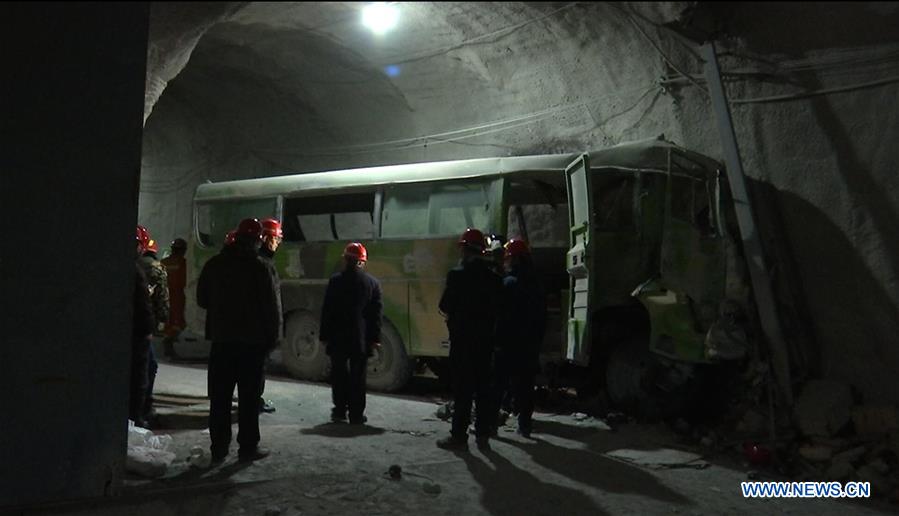 Photo taken on Feb 23, 2019 shows the accident site at a lead, zinc and silver mine under Yinman Mining Company in West Ujimqin Banner, Xilingol League, North China's Inner Mongolia autonomous region. [Photo/Xinhua]
The accident occurred at 8:20 am on Feb 23 when a shuttle vehicle carrying miners to work crashed into the side of an underground tunnel after its brakes failed, killing 22 and injuring 28 in a Yinman Mining Company mine in the Xilingol League's West Ujimqin Banner.
Local prosecutors said in a statement that the 11 arrested allegedly committed the crime of "causing a major liability accident", adding the case is still being further processed.
Under the Chinese Criminal Law, the crime means causing several deaths or injuries due to misconduct or violating safety regulations in the workplace.
A preliminary investigation in earlier reports showed that the company illegally bought the vehicle involved online, meaning it did not undergo safety checks, and the company used the vehicle, which was meant for ground transport, underground instead.
The investigation also said the vehicle was designed to carry 30 people at most, but it was overloaded with 50 people when the accident occurred.(CAO YIN)
About CHINA MINING
Since first held in 1999, the scope and influence of CHINA MINING has grown rapidly year by year. As a global mining summit forum and exhibition, CHINA MINING Congress and Expo has become one of the world's top mining events, and one of the world's largest mining exploration, development and trading platforms, covering all aspects of the whole mining industry chain, including geological survey, exploration and development, mining rights trading, mining investment and financing, smelting and processing, mining techniques and equipment, mining services, etc. playing an active promotion role in creating exchange opportunities and enhancing mutual cooperation between domestic and foreign mining enterprises.
CHINA MINING Conference and Exhibition 2018 Was held at Meijiang Convention and Exhibition Center in Tianjin in October 18-20, 2018. We invite you to join the event and to celebrate the 20th anniversary of CHINA MINING with us. For more information about CHINA MINING 2018, please visit: www.chinaminingtj.org.