China's first 110-ton NTE120AT unmanned electric mining truck -- developed by Inner Mongolia North Hauler Joint Stock Co, a Baotou-based mining truck manufacturer -- was successfully launched recently, making China the third country to boast having unmanned mining vehicle technology after the US and Japan.
The truck is equipped with cutting-edge technologies such as intelligent navigation, precise positioning, and safe driving.
Founded in 1988, NHL is now a leading company in the R&D, production and sale of mining trucks. It was listed on the Shanghai Stock Exchange in June 2000. The company is nearing its goal of becoming a leading global mining truck manufacturer, thanks to its 28 years of experience and stable revenue growth.(Lu Wei)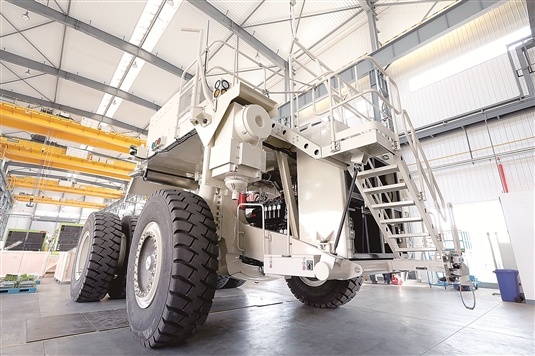 A 110-ton NTE120AT unmanned electric mining truck developed by Inner Mongolia North Hauler Joint Stock Co, a Baotou-based mine truck manufacturer, is shown off on March 11. [Photo/Baotou Daily]
About CHINA MINING
Since first held in 1999, the scope and influence of CHINA MINING has grown rapidly year by year. As a global mining summit forum and exhibition, CHINA MINING Congress and Expo has become one of the world's top mining events, and one of the world's largest mining exploration, development and trading platforms, covering all aspects of the whole mining industry chain, including geological survey, exploration and development, mining rights trading, mining investment and financing, smelting and processing, mining techniques and equipment, mining services, etc. playing an active promotion role in creating exchange opportunities and enhancing mutual cooperation between domestic and foreign mining enterprises.
CHINA MINING Conference and Exhibition 2018 Was held at Meijiang Convention and Exhibition Center in Tianjin in October 18-20, 2018. We invite you to join the event and to celebrate the 20th anniversary of CHINA MINING with us. For more information about CHINA MINING 2018, please visit: www.chinaminingtj.org.