Pakistan is a country that is blessed with rich minerals and many hidden treasures.
The large variety of minerals includes salt, coal, copper, gold, iron, chromite, bauxite, various gemstones, etc. The precious and semi-precious minerals include peridot, aquamarine, topaz, ruby, emerald, rare-earth minerals bastnaesite and xenotime, sphene, tourmaline, jade, onyx, marble, granite and nephrite; along with many types of quartz. Pakistan's copper and gold reserves are among the top 10 countries of the world.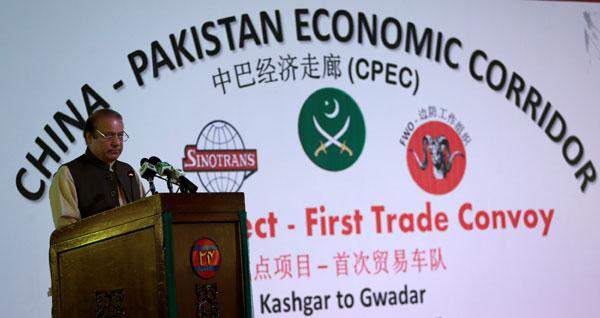 Pakistan's Prime Minister Nawaz Sharif speaks at the inauguration of the China-Pakistan Economic Corridor
port in Gwadar, Pakistan November 13, 2016. [Photo/Agencies]
Most of the mines are located in Balochistan, FATA, Gilgit Baltistan, and the Thar Desert in Sindh. For instance, coal deposits in Thar are so huge that it has the potential to meet the requirement of Pakistan's total energy needs for the next 200 years. However, Pakistan is focused on allocating expenditure on imported petroleum, oil, and gas; worth billions of dollars annually.
Despite the abundance of various natural minerals, Pakistan has still not exploited its mining sector fully. But now, the government is giving this sector due attention and would like to explore it further. Under the China-Pakistan Economic Corridor (CPEC), Chinese companies are encouraged to invest in this sector.
The mining sector of Pakistan is ignored due to its locations in remote areas, where a lack of infrastructure has hindered the accessibility to areas that are rich in minerals. Under CPEC, infrastructure is being up-graded gradually and most parts of the country have become home to good quality roads and additional infrastructure like railways is under up-gradation. China is projected to invest more in infrastructure sector of Pakistan. This will make it possible to reach far-flung areas with greater ease and accessibility.
China is known to have good experience pertaining to the mining sector as it has developed its own modern technology that deals with new and improved industrial mining techniques. Utilizing Chinese experience and technology, Pakistan's mining sector can be developed at an accelerated pace; one that we can heavily hope to achieve.
The mining sector can contribute a great deal to the national socio-economic development. For example, recent development in Thar has thrust the remote region into a time of great economic development. This has resulted in the astonishing reality of women who had no previous financial independence or work experience but now are now driving dump trucks and subsequently earning a handsome amount of money. This sudden necessity of large amounts of labor requirements has changed the fate of hundreds and thousands of the inhabitants in Thar. Along the same vein, the schooling in Thar has improved, poverty has been eradicated to some extent, and the status of women has been up-graded. A visible prosperity and satisfaction can be witnessed.
There have been identified 21 mineral zones proposed by the government of Pakistan. Some of the notable mineral zones are the Khewra salt mines in Punjab. For Minerals Economic Processing Zones in Sindh, the proposed sites are Thar (coal) and Lakra (coal). The proposed Minerals Economic Processing Zones in KPK included Dargai (chromite), North Waziristan (chromite), Kurram (antimony), Waziristan, (copper), Chitral (antimony), Besham (iron ore, lead), Nizampur (iron ore) and Mohmand (marble).
The zones/projects are planned to be set up near the source of the raw materials and, afterwards, the nearby areas are planned to have supporting infrastructure to increase transport and regional linkages. The mines are set to be given export privileges and enjoy large tax breaks, such like the Saindak copper and gold mine.
The Chinese technology will be added on in a technical capacity, where collaborative work will take place soon. A profit sharing formula is said to be in the works with regards to the aforementioned cooperation. The subsequent integration between Chinese companies into the Pakistani economy would be highly beneficial for both sides, win-win situation for China as well as Pakistan.
The author is a Sinologist (ex-diplomat), Non-Resident Fellow of CCG (Center for China and Globalization), National University of Sciences and Technology (NUST), Islamabad, Pakistan