SHANGHAI - The China (Shanghai) Pilot Free Trade Zone Iron Ore Index has been launched in Shanghai as one of China's moves to open up its commodity markets.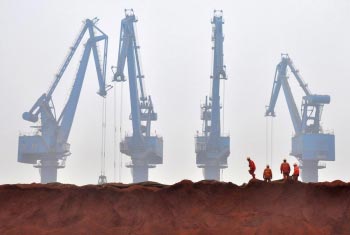 Workers remove the cloth covering the iron ore from Australia while they prepare for transporting at a port in Tianjin. [Photo/Agencies]
The yuan-denominated price index, jointly launched Friday by Shanghai Ore International Trade Center, Xiben New Line Stock Company, and Shanghai OTC Commodity Derivatives Association, combined China's import iron ore prices with internationally prevailing prices.
The index will be published every business day at 9:15 am.
China imported 1.075 billion metric tons of iron ore in 2017, which accounted for 70 percent of global imports. Along with the growing domestic need for hedging, the world's leading consumer of iron ore has long been in demand of bigger say in setting commodity prices.
"By launching China's ore index, more accurate and precise price information can be provided for the operation of China's commodity market," said Yu Jianguo, general manager of Shanghai Ore International Trade Center, adding, "China will also increase its role in setting global prices and forming its own commodity price system."
China has already launched trading of crude oil futures contracts and the Shanghai Gold Benchmark Price in the past few years among its steady moves to further open up the financial sector and commodity market.
About CHINA MINING
Since first held in 1999, the scope and influence of CHINA MINING has grown rapidly year by year. As a global mining summit forum and exhibition, CHINA MINING Congress and Expo has become one of the world's top mining events, and one of the world's largest mining exploration, development and trading platforms, covering all aspects of the whole mining industry chain, including geological survey, exploration and development, mining rights trading, mining investment and financing, smelting and processing, mining techniques and equipment, mining services, etc. playing an active promotion role in creating exchange opportunities and enhancing mutual cooperation between domestic and foreign mining enterprises.
CHINA MINING Congress and Expo 2018 will be held at Meijiang Convention and Exhibition Center in Tianjin in October 18-20, 2018. We invite you to join the event and to celebrate the 20th anniversary of CHINA MINING with us. For more information about CHINA MINING 2018, please visit: www.chinaminingtj.org.