Analysts and industry players forecast mutually beneficial rise in China imports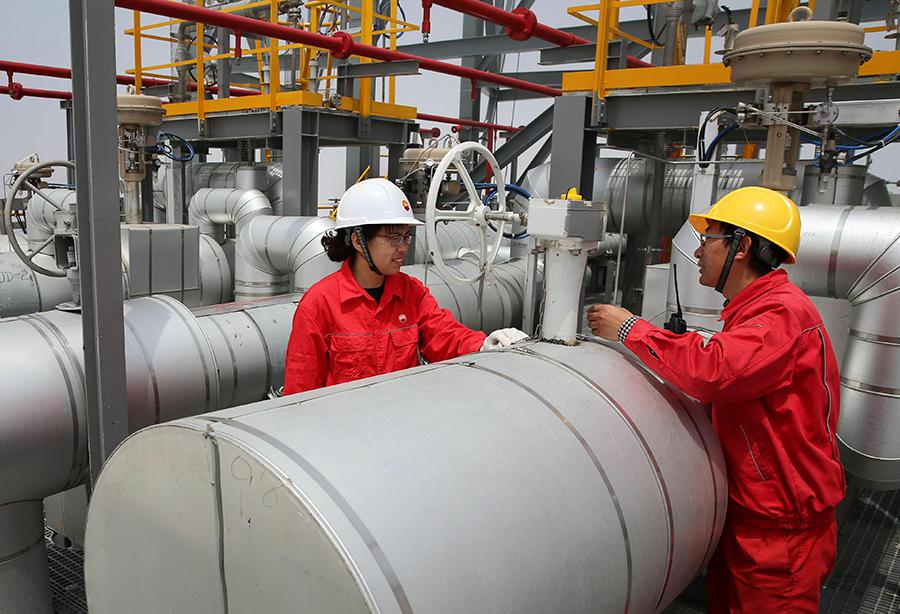 Technicians check liquefied natural gas facilities in Nantong, Jiangsu province. [Photo by Xu Congjun/For China Daily]
Analysts have forecast China could triple both its oil and liquefied natural gas imports from the United States this year, which could offer one solution to cutting the US trade gap and meeting China's energy demand.
"Record-high US oil output and surging demand for gas in China provide a foundation to further boost trade in the long run," Wang Lu, an Asia-Pacific oil and gas analyst at Bloomberg Intelligence.
China could more than double its oil trade with the US this year compared to 2017, she said, and the combination of higher volumes and rising oil prices in 2018 could triple the value of last year's oil trade, which was worth $4.4 billion, or 1.2 percent of 2017's trade deficit.
If US LNG exports growth were to continue throughout the year, LNG trade could also be worth almost triple last year's $644 million, or 0.2 percent of 2017's trade gap of $375 billion, Wang said.
"Trades are currently made from the spot market, yet we expect more long-term deals to be signed in addition to PetroChina's contract with Cheniere Energy," Wang said.
"Private companies such as Guanghui Energy, ENN Group and IDG Energy Investment Group have joined State-owned CNOOC Group, Petro-China and Sinopec in the LNG receiving-terminals business, increasing channels for imports from the US."
According to China National Petroleum Corp's Economics and Technology Research Institute, the US' natural gas export capacity is expected to triple in the next three years. Meanwhile China, which is currently the world's second-largest LNG importer and is experiencing steady economic progress, is the most ideal energy cooperation partner, the institute said.
Figures from the institute show that most of China's LNG imports come from Australia, Qatar, Malaysia and Indonesia, which combined accounted for roughly 80 percent of the country's LNG imports in the past eight years.
As China-US energy cooperation increases, China will be able to import more LNG from the US, providing a more diversified and flexible natural gas import channel that helps to ensure national energy security, while meeting the rapidly surging natural gas demand at home, said Chen Rui, a senior researcher with the CNPC institute.
Li Li, research director at energy consulting company ICIS China, said the record-high oil output in the US and increasing demand for natural gas in China is a mainstay for global energy trade.
China's surging demand for natural gas, under a policy to replace polluting coal with cleaner natural gas, is very lucrative for global energy giants, she said.
Oil refiner China Petroleum and Chemical Corp, also known as Sinopec, is expected to boost US crude oil imports to an all-time high. As the first company in Asia-Pacific to import crude from the US, Sinopec imports the most crude oil worldwide. It forecasts crude oil trade between the world's two largest economies will continue to grow, according to Lyu Dapeng, a company spokesperson.
Another Chinese oil and gas giant has also expressed confidence that the two countries' energy ties are set to deepen, despite trade conflicts.
"There is more room for cooperation than confrontation between the two countries," said China National Petroleum Corp Chairman Wang Yilin.
CNPC signed its first long-term deal with Houston-based Cheniere Energy to import US LNG in February. It has previously cooperated with many US-based companies, including Exxon Mobil Corp, Chevron Corp and ConocoPhillips Co.
About CHINA MINING
Since first held in 1999, the scope and influence of CHINA MINING has grown rapidly year by year. As a global mining summit forum and exhibition, CHINA MINING Congress and Expo has become one of the world's top mining events, and one of the world's largest mining exploration, development and trading platforms, covering all aspects of the whole mining industry chain, including geological survey, exploration and development, mining rights trading, mining investment and financing, smelting and processing, mining techniques and equipment, mining services, etc. playing an active promotion role in creating exchange opportunities and enhancing mutual cooperation between domestic and foreign mining enterprises.
CHINA MINING Congress and Expo 2018 will be held at Meijiang Convention and Exhibition Center in Tianjin in October 18-20, 2018. We invite you to join the event and to celebrate the 20th anniversary of CHINA MINING with us. For more information about CHINA MINING 2018, please visit: www.chinaminingtj.org.