BEIJING - China's Ministry of Commerce on Wednesday published the names of 11 private refineries with a plan to allow them to directly import crude oil.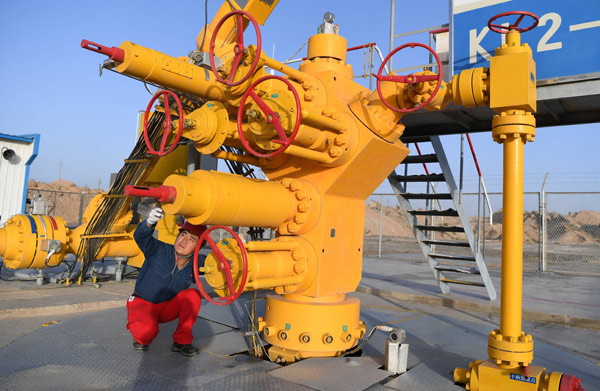 A worker checks oil transport facilities at the Tarim Basin in Xinjiang Uygur autonomous region. Photo/Xinhua]
The ministry said it has examined the firms' applications and found them in accordance with requirements.
The refineries are located in the provinces of Liaoning, Shaanxi, Shandong, Henan and Hubei.
China is one of the world's largest oil buyers. Over 60 percent of its oil comes from imports. Crude imports are dominated by State-run giants Sinopec, China National Petroleum Corporation and China National Offshore Oil Corporation.
The country gave private refineries the green light to directly import crude in 2015 as the government tried to attract private capital into the largely monopolized sector.
In 2018, the quota for non-State crude oil imports rose to 142 million tonnes, 55 percent higher than that for 2017.
Customs data showed China imported 420 million tonnes of crude oil in 2017, up 10.1 percent year on year.
About CHINA MINING
Since first held in 1999, the scope and influence of CHINA MINING has grown rapidly year by year. As a global mining summit forum and exhibition, CHINA MINING Congress and Expo has become one of the world's top mining events, and one of the world's largest mining exploration, development and trading platforms, covering all aspects of the whole mining industry chain, including geological survey, exploration and development, mining rights trading, mining investment and financing, smelting and processing, mining techniques and equipment, mining services, etc. playing an active promotion role in creating exchange opportunities and enhancing mutual cooperation between domestic and foreign mining enterprises.
CHINA MINING Congress and Expo 2018 will be held at Meijiang Convention and Exhibition Center in Tianjin in October 18-20, 2018. We invite you to join the event and to celebrate the 20th anniversary of CHINA MINING with us. For more information about CHINA MINING 2018, please visit: www.chinaminingtj.org.