Experts said China's energy sector needs to further open up and develop alternative resources as the nation's energy consumption continues to rely heavily on coal and imported petroleum.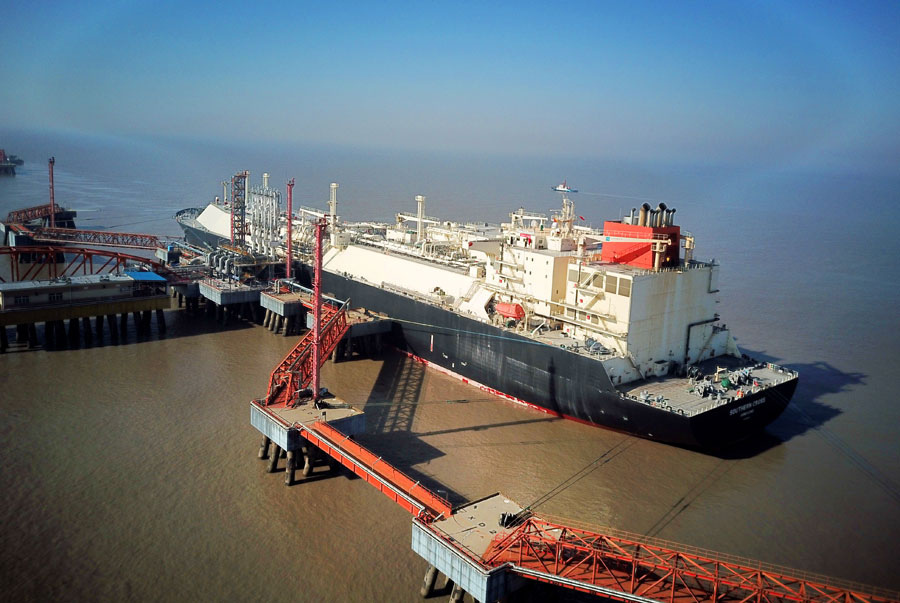 An LNG container ship from Australia docks at Yangkou port of Rudong county, Jiangsu province, on Jan 15. [Photo by Xu Congjun/For China Daily]
Zhou Dadi, a senior researcher at the China Energy Research Society, said in an interview with Economic Daily that the nation's petroleum and natural gas sector remains largely dependent on imports.
In 2017, China imported 396 million metric tons of petroleum, up 10.8 percent year-on-year.
"In 2018, about 67.4 percent of the country's petroleum and 39 percent of its natural gas consumption will rely on imports," he said. "Despite the abundant supply of coal, China's energy consumption structure still has serious problems, especially a lack of modern coal mines with high efficiency and productivity.
"China has become the world's largest energy producer and consumer, but from the consumption data, the energy structure in the country has not seen any fundamental changes," said Zhou.
"Our country has abundant resources, especially coal, but is short of a premium energy supply."
Zhou said that coal still accounted for 60 percent of primary energy consumption in China. But with the accelerating pace of urbanization, China needs more premium energy resources.
"On the one hand, we need to promote clean technology in the use of coal, but we also need to increase the supply of alternative resources including natural gas, nuclear power and hydropower."
According to the National Energy Administration, China will produce 160 billion cubic meters of natural gas in 2018, a record high and up 8.5 percent from 2017, while domestic coal production in 2018 will also reach an all-time high at 3.7 billion tons, up 7.3 percent from 2017.
Conducting international energy cooperation is one way to upgrade the energy structure and increase supply, and Zhou said to achieve the best outcome, nations need to work out a solution for a win-win situation rather than simply buy and sell goods.
"We can't regard international cooperation simply as buying and selling energy," he said. "In the past, China not only imported petroleum from abroad but also invested in many petroleum plants."
About CHINA MINING
Since first held in 1999, the scope and influence of CHINA MINING has grown rapidly year by year. As a global mining summit forum and exhibition, CHINA MINING Congress and Expo has become one of the world's top mining events, and one of the world's largest mining exploration, development and trading platforms, covering all aspects of the whole mining industry chain, including geological survey, exploration and development, mining rights trading, mining investment and financing, smelting and processing, mining techniques and equipment, mining services, etc. playing an active promotion role in creating exchange opportunities and enhancing mutual cooperation between domestic and foreign mining enterprises.
CHINA MINING Congress and Expo 2018 will be held at Meijiang Convention and Exhibition Center in Tianjin in October 18-20, 2018. We invite you to join the event and to celebrate the 20th anniversary of CHINA MINING with us. For more information about CHINA MINING 2018, please visit: www.chinaminingtj.org.