Yuan-denominated, they are the first of their kind to be open to overseas investors
The Chinese futures market took another step toward internationalization on March 26 with the unveiling of yuan-denominated crude oil futures contracts
, the first of their kind open to overseas investors.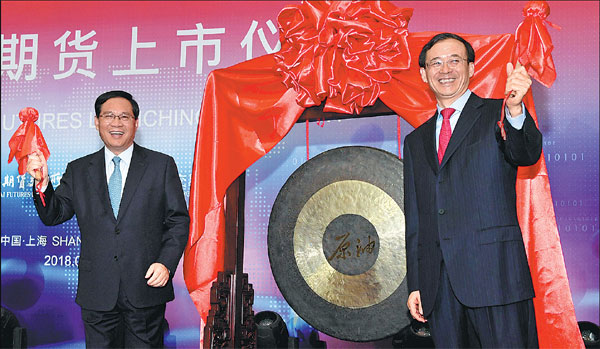 Li Qiang (left), the Shanghai Party secretary, and Liu Shiyu, chairman of the China Securities Regulatory Commission, prepare to strike a gong to open trading of yuan-denominated crude oil futures at the Shanghai International Energy Exchange on March 26.
The futures will set a crude oil pricing benchmark that reflects supply and demand in China and Asia, says Jiang Yang, vice-chairman of the China Securities Regulatory Commission.
The September crude futures contract that registered the largest trading volume on March 26, with the transaction total reaching 17.64 billion yuan ($2.8 billion; 2.2 billion euros; £1.9 billion), saw its price close at 429.9 yuan per barrel, up by 3.34 percent.
With this step, China is taking the lead with innovative measures to make up for the lack of a benchmark for crude oil in Asia, says Li Li, research director at energy consulting company ICIS China. Also, the crude oil futures will more accurately reflect oil prices in the region, giving companies in the real economy a bargaining tool when importing crude, Li says.
During the first trading day, leading overseas companies including Glencore, Trafigura and Freepoint Commodities were among the first to trade. However, energy giants such as BP and Shell are taking a wait-and-see attitude, Li says.
Overseas institutional investors' income from crude oil futures transactions will be temporarily exempted from the enterprise income tax, says Wang Xiao, director of the crude oil research department at Guotai Junan Securities.
Zhang Hao, chairman of Citic Futures, says that the Shanghai crude oil futures will fill a blank spot left by the benchmark West Texas Intermediate benchmark from the United States and Brent from the United Kingdom in terms of trading hours, creating a 24-hour trading mechanism.
The growth in demand for crude oil by China has remained the world's largest since 2009, according to the Chicago Mercantile Exchange. It overtook the United States as the world's largest net importer of crude oil and petroleum products in 2014.
Jonty Rushforth, senior director of the energy price group at S&P Global Platts information service, says Shanghai crude oil futures could be very successful if administrators are persistent, flexible and willing to experiment.
"It could also help consolidate the renminbi's position in the international oil market if more traders from outside China choose to trade on the Shanghai futures exchange," he says.
About CHINA MINING
Since first held in 1999, the scope and influence of CHINA MINING has grown rapidly year by year. As a global mining summit forum and exhibition, CHINA MINING Congress and Expo has become one of the world's top mining events, and one of the world's largest mining exploration, development and trading platforms, covering all aspects of the whole mining industry chain, including geological survey, exploration and development, mining rights trading, mining investment and financing, smelting and processing, mining techniques and equipment, mining services, etc. playing an active promotion role in creating exchange opportunities and enhancing mutual cooperation between domestic and foreign mining enterprises.
CHINA MINING Congress and Expo 2018 will be held at Meijiang Convention and Exhibition Center in Tianjin in October 18-20, 2018. We invite you to join the event and to celebrate the 20th anniversary of CHINA MINING with us. For more information about CHINA MINING 2018, please visit: www.chinaminingtj.org.