Chinese companies should play a bigger role in global steel production and trade, rather than just export basic products, and utilize the Belt and Road Initiative for expanding reach, a top industry official said.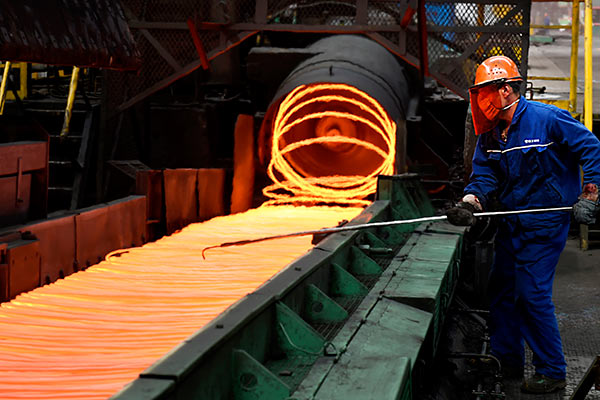 An employee checks steel rings at a steel plant in Zouping, Shandong province.
[Photo by Dong Naide/for China Daily]
"The Belt and Road Initiative will open new channels for Chinese steel companies to go global and help build a stronger presence in the global trade chain," said Chi Jingdong, vice-chairman of the China Iron and Steel Association.
Chi said it is imperative for Chinese steel companies to make use of such opportunities, because competition and unilateral protectionism in the global steel market could intensify after the United States decided to impose punitive tariffs on steel product shipments.
His comments come at a time when China's steel exports have been falling steadily.
In 2015, the country exported 112.4 million metric tons of steel and the same fell by 3.5 percent to 108.4 million tons in 2016. In 2017, the exports were only 75.4 million tons, while steel production was 831.7 million tons, according to the National Development and Reform Commission and the General Administration of Customs.
In contrast, China's steel exports to Belt and Road related countries and regions have been increasing steadily in recent years, said Chi.
Part of the reason for the growth in exports has been the slew of major infrastructure construction projects that have been planned under the initiative. It has also helped Chinese companies to establish localized manufacturing, processing, logistics, and trade branches, or undertake mergers and acquisitions, all of which have helped in greater internationalization, he said.
Besides, the Belt and Road Initiative also offers Chinese steel companies opportunities to establish partnerships with downstream companies in related countries and regions, and build on-site research and development facilities to meet local steel demand for certain projects, Chi said.
Commenting on the government's ongoing efforts to reduce excess capacity, Chi said that the measures have helped balance global steel supply and demand, and provided an impetus for the Chinese steel industry to upgrade and develop.
Zou Shuo contributed to the story.
About CHINA MINING
Since first held in 1999, the scope and influence of CHINA MINING has grown rapidly year by year. As a global mining summit forum and exhibition, CHINA MINING Congress and Expo has become one of the world's top mining events, and one of the world's largest mining exploration, development and trading platforms, covering all aspects of the whole mining industry chain, including geological survey, exploration and development, mining rights trading, mining investment and financing, smelting and processing, mining techniques and equipment, mining services, etc. playing an active promotion role in creating exchange opportunities and enhancing mutual cooperation between domestic and foreign mining enterprises.
CHINA MINING Congress and Expo 2018 will be held at Meijiang Convention and Exhibition Center in Tianjin in October 18-20, 2018. We invite you to join the event and to celebrate the 20th anniversary of CHINA MINING with us. For more information about CHINA MINING 2018, please visit: www.chinaminingtj.org.